Grey and cloudy days like today make the Bronx look uglier. The streets are strewn with garbage, the sidewalks smeared with dog shit, and some old lady is likely to poke you with her umbrella. Nonetheless my mom has asked me to walk over to the local Western Beef to exchange into paper a heavy sack of coins she recovered while cleaning. The bag of pennies, nickels and dimes jingles in my bag as I trek fifteen minutes towards the intersection of Webster Avenue and East 180th street, caught in a drizzle and cursing myself for not carrying an umbrella. At least I won't poke anyone.
I pass the spot where Bronx River Parkway crosses over the subway yards, imagining a young Marshall Berman standing and bearing witness to the destruction wrought by metal and concrete, amid the building of the Cross Bronx Expressway. Robert Moses' monstrous highway, a human "meat-axe" as Berman describes him, hacked away the homes of 5,000 residents of East Tremont, and by 1965 the neighborhood was unrecognizable. The destruction, and heartbreak of the community's failure to stop the expressway, are some of the most evocative pages of Robert Caro's The Power Broker. Is it any wonder that Berman rejected the top down approaches of urban planning that celebrated technocrats and their mega projects? He embraced instead a vision of the city where urban infrastructure would address people's needs wants and desires for a richer life.
While Berman is best remembered for his nolstalgic ode to his East Tremont neighborhood, not everyone shares such wistfulness. Vivian Gornick, who also grew up in the area, then still a predominantly working-class Jewish neighborhood, remembers wanting to badly escape her surroundings. She reflects:
"[I]t was the bleakness of expectation, the stultified vision and resented courage, that dragged us – the children – down, and made us hate the place. Our longing to get out of the Bronx was intense, and it induced, paradoxically, a solidarity that many were to carry well into other lives: the inevitable mixed legacy of the ghetto. For that's what the Bronx was for us: a working-class ghetto destined to be deserted by its young."[1]
Today East Tremont is lined with small homes, giving way to run-down five-story residential buildings, auto-repair shops blasting bachata and corner stores covered in advertisements. One two-story house on the corner of 180th and Park Avenue is falling apart, its plywood structure held in place only by the metal its encased in—the high bars dissuading even the deftest robber. Two older women converse in Spanish under a bodega awning, waiting for the bus. In many areas of the Bronx, buses are the main mode of transportation, even if slow to arrive and usually packed with commuters. Unlike Berman's salad days, when it served largely as a refuge for working-class Jews and Italians who could afford to flee the Lower East Side for East Tremont, and the neighboring area of Belmont—where I grew up– are overwhelmingly Latino (63.9%) and African-American (29%). The poverty rate is nearly 40%. The Jews are long gone, and besides the stores they manage, the Italians have all left for Yonkers and Westchester. In the 1970s, the Bronx lost one fifth of its population. But it has recovered and exceeds city-wide levels. Between 1980 and 2017, the Bronx has grown by 1.5 million people and non-white immigrants are today the majority of the borough's total population.
Continuing on my way, I pass a tapas bar and lounge made infamous two years ago when a twenty-five-year-old New Jersey woman was stabbed and shot. Most New Yorkers zip through East Tremont on their way to grab a cannoli or two in the neighboring area of Belmont (also known as Little Italy). Little do they know that these two neighborhoods, comprising the 48th precinct, have the highest rates of crime in the Bronx. The publicized crimes are often kept under wraps for the sake of tourists, vanishing in the façade of Italian restaurants and delis seeking to preserve the neighborhood's mythologized past, celebrating ethnic whites and sanitizing the racism between them and neighboring blacks and Puerto Rican families. Never mind that most visitors never walk past 187th Street, and thus do not see the poverty of Little Italy. It's only a few steps further to Western Beef, a low cost-supermarket chain whose motto is "we know the neighborhood."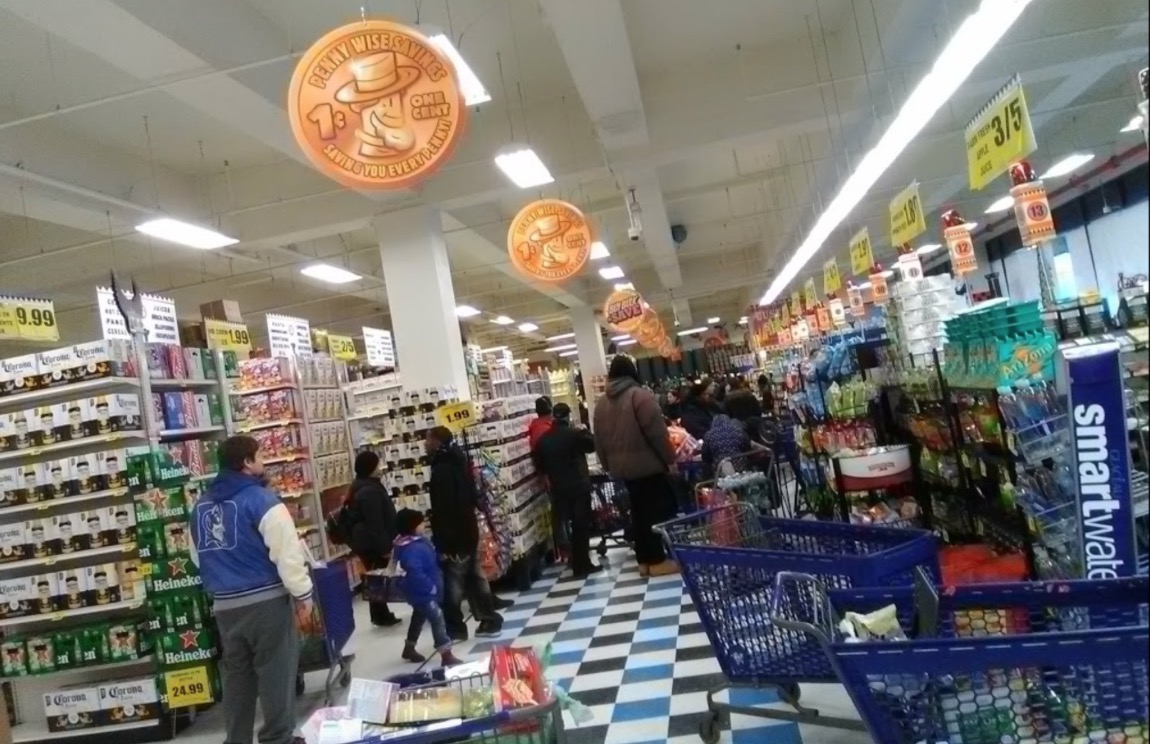 Western Beef's business model specifically caters to inner-city neighborhoods like East Tremont. The chain is owned by Peter Castellana Jr, a second-generation Italian American who lives in Ridgewood, Queens. Castellana inherited the company from his father, and has fought to double its size, amid allegations of ties to the Gambino crime family. Since the 1960s, the company has undergone various names and tried hard to shed its mob past. Starting with a flagship store in Flushing in the 1980s, it operated under the name Western Beef. The company's growth in poor and working-class neighborhoods of mostly Latino, West Indian, African and African-American in the Bronx and elsewhere is a microcosm of the race and class dynamics of postwar inner-city neighborhoods. In this period, Italians and other white ethnics assimilated into middle class and upper middle class lifestyles, and today their class status is maintained through companies which prey on poor and working class Latino and black families. The store is packed with aisles of junk food, expired products and over-priced produce. And while Bronx residents prefer newly renovated locations like this one on Webster Avenue,  with better lighting and better variety, the cost is often passed down to the consumer.
Western Beef is gigantic. It's a warehouse-style supermarket whose outside area is stacked with sale items: crackers, soda and ramen soup boxes. Unlike other locations, this one has not introduced self-checkout systems and mostly Latina cashiers interact with customers on a daily basis, asking about family members while scanning coupons. The store is known to sell bulk food items and has large refrigerated rooms filled with prepackaged meats you can find for cheaper than at your local super market.
My eyes meet those of the "loss prevention" security guard, an older black man in his 50s with tall broad shoulders and smiling eyes, sporting a long leather jacket down to his knees making him look a little like Shaft. Underneath his coat he is wearing a black shirt and a security badge hangs down to his chest. Asking him for the coin machine, I stifle a sneeze with my tissue.
"You look like how I feel" he deadpans.
"Damn," I respond "isn't it too early for all that? I look that bad huh?"
He laughs and asks me if I have a cold. I tell him I haven't been able to shake my cold for a few weeks now. He recommends I take some shots of rum. "That will clear it right up," he smiles. "And if not, at least you will be nice if you know what I mean" he chuckles.
I smile and fumble with my change as he takes the bags of customers coming in, handing them a paper ticket with a corresponding number. He sighs out loud:
"I hate it when people come here looking all stank."
I looked at him puzzled and he continues.
"I mean you are coming to do food shopping. Why do you have to look like that for? There are people out in the street that have nothing, no money to go food shopping, they are sleeping on card board boxes around the corner, and you have an attitude?" He shakes his head.
We chat as I  absentmindedly feed the loose coins into the machine, our conversation punctuated by his checking in the bags of arriving customers, most of whom are older residents pushing grocery carts.
I ask him his policy on stopping shoplifters.
"Why you ask?" He bursts into laughter.
"You can't run after them, can you?" I inquire, recalling my own teenage experience, being  chased by security guards outside of Kmart in Bay Plaza mall for allegedly shoplifting.
"No," he hazards, "and that is because its technically public property." His voice peters off, unsure of his answer, and perhaps shy to reveal that he doesn't understand the law any better than I do.
"All I know," he continues, "is that I stop them right here," signaling to where I stand.
"Do you stop a lot of people," I ask.
"You'd be surprised," he retorts. "There are a lot of people that steal from here. Sometimes I feel really bad though. Last week I stopped a lady, probably in her 30s, who stole some meat. She started to cry, saying that she didn't want to be arrested. I felt for her. She said she had never been arrested before. And she had three kids. She said she stole because she was unemployed and didn't have money to feed them."
"So, what did you do?"
"Well me and a couple of the other cashiers, we decided to buy the food for her and the kids. So that they don't go hungry. We do that sometimes. Not everyone that steals is bad. Some people do it because they are hungry. Those people I help. Just don't steal. If you need it just say so and I can buy it for you."
His genuine response brings a smile to my face. I think to myself about all the times this "loss prevention" officer has had to make these kind of calls in this store. He doesn't make that much himself, despite the fancy title. Over the past decade, in tandem with a growing low-wage food service and retail industry, private security jobs have increased. In New York City, security guards greatly outnumber any other "protective service occupations" including police officers, correctional officers and detectives. At the highest end—meaning years of experience and full-time status, a security guard can make around $42,000 a year. His words jolt me out of these thoughts.
"Now when I was working in Harlem I did the same thing for this lady. She asked me for change and I bought her food. But she threw out the food right in front of me. Can you believe that? She wanted the money to get high. And I'm not about that. Its food or you ain't getting my money."
I nod my head in agreement.
"You see, I would never want people to go hungry. My mom raised sixteen kids. I know what it's like. I don't want anyone to go hungry, but I don't want you to steal."
This brings us to the topic of food stamps, which were all screwed up by the latest government shutdown. "Yeah," I tell him, "my mom still didn't get the other half of her food stamps."
"Yeah, you see that's a mess right there," he replies. "But the next round will be on time they say. It's all because of this damn wall. No one wants the wall. Doesn't he know it doesn't matter what wall you built, drugs will always find a way to come through this country: by air by sea by whatever? Trump is crazy. They should build the wall around him and those Republicans. Put a wall around their asses. Because of him the country is so divided, more than ever before. People say he is a businessman…"
He rolls his eyes, scoffs loudly and continues, this time clasping his hands.
"This is why I say we need a female president to clean this mess. Only a woman could fix this up. The Democrats need to get it together."
At this, I decided to bid goodbye. Armed with my receipt from the Coinstar machine, I enter the store to retrieve my cash. Inside older women shop, while younger men stock the shelves. A small group of black and Latino teenagers strides in, and everyone's eyes, from the cashier to the man sweeping the floors, follows them around the store. The kids say nothing, lost in their own world of iPhones and inside jokes.
I take my money and walk towards the exit. The "loss prevention" guard does not waste a minute and asks for my name. He extends his hand to shake mine. I make a joke about his firm handshake and he follows up with "well the job does require some physical strength." He leaves me with his wishes that my day is filled with people that smile–not like the cranks he has to deal with.
[1] Vivian Gornick, "My Neighborhood, Its Fall and Rise," New York Times, June 24, 2001, sec. 14, p. 1, col. 1.