In Part I of this conversation, we heard from Stickii and Shae Shae about their experiences with police growing up in Springfield, MA and what got them into the streets protesting from a young age. Now, we hear about their lessons from over a decade of challenging police, and where they look for inspiration.
Stickii: For me, the biggest shit is when something that is so huge that is touching people across the world turns into capitalism. These are people that are supposed to be funneling resources to a movement, instead they just want Black capitalism. They are only interested in Black Trans leadership when it's exploitable or when its' conducive to their photo opps. The ideas people are coming up with now — defunding police and getting mental health professionals to come to the scene — that is shit we have been talking about for at least the last 13 years I've been organizing. Yet, they are still not talking about sex work not being illegal. They are not talking about harm reduction and underground economies. They are just saying no, we are going to stop the police. It's going to be burnt out therapists coming to your door instead of burnt out police officers. And still, it won't change the life of Black trans sex workers. Black trans people are targeted and killed in such a dynamic and multifaceted way.
Shae Shae: We are not exempt from causing each other harm. We are not exempt from upholding the systems that ultimately continue to hurt us and kill us. It's about time to stop following Cis heteronormative leadership. It's the most marginalzied who know what the fuck is happening, who know what we really need. This is the shit with a lot of conversations around defunding (the police). The framework fails to acknowledge all the things that are still unjustly criminalized in this country. Sex work is still a crime. So, even if we are going to be cutting back the funding to police and taking away their equipment, are we prepared to protect Black Trans sex workers? How do we prevent them from being the punching bag for police aggression? I believe in Minneapolis so deeply – the organizers there are amazing and I have all the faith in the world in them. I also know how long it takes for a system to change and worry about how to keep folks, who live lives outside of what this country deems acceptable, safe.
Laws are racist. You cannot create laws for a white supremacist system, and way of life, and have them not be racist. It's not solely a police problem, it's an American problem. It's the government. It's the teachers. It's all of the power positions that create these dynamics, and still everyone's like yeah, Black Lives Matter.
Stickii: There is so much more meaningful work that deserves funding. Instead the focus is on collecting capital and getting black people to the polls.
Shae Shae: In Seattle, they set up an Autonomous Zone. This is the shit I'm talking about – building models for community safety. That's the shit you lean into. When shit started popping off in Minneapolis, there was a picture going around of four white kids on the ground. They had come to set shit on fire. Instead of calling the police the community members who caught them made these white kids call their moms. There's dope shit like this popping up all over the place and not necessarily coming from organizers.
Still nothing is without it's toxicness. Beautiful moments of rebellion and community while two Black trans women were murdered in the same 24 hour span. People aren't angry enough. The only outcry I've seen is from Queer and Trans folks. There's very few cis heteronormative folks who are like, yeah, she matters too. That says so much about how sickening the patriarchy is. You can't help but feel complicated about whether you continue to go out in the street, save yourself, save your own, or still be under the thumb of a different color. The reality is that we've always been systemically beneath motherfuckers forever. It's this power shifting that never reaches the people on the bottom. It's so interesting to watch people totally understand it and then you be like, let's talk about disabled people in relation to Blackness and people are like, huh? But that's not even close to the end of the intersecting identities most of us carry. If you are not willing to do the work to eradicate it all, then we are not going to get to the end.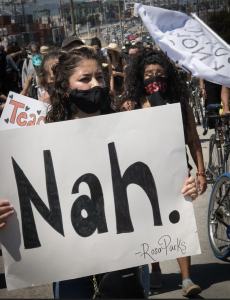 Stickii: After doing court support for hours and hours since 2007, and watching what the police and court do to people's bodies, I'm like, let's talk about what support for Black lives looks like. No one wanted to show up when undercover cops started shooting at a car and the motherfucker ran and now he is being charged for aggravated assault on an officer. This black boy literally got shot through his leg and is now being tried and could face time. Now, everyone is talking about an art exhibit for Juneteenth.
Shae Shae: They recently hosted a whole event downtown in honor of George Floyd. The Mayor, who is blocking the city council from creating a police review board, and the police chief who should have been fired years ago, is out there, holding hands, kneeling with folks and singing kumbaya. People act like they don't know. Do better.
If tomorrow, they said another Black man would not die ever again at the hands of the police, that would be enough for a whole lot of people. And for me it comes down to this: the only way to save Black life is to abolish it all, I'm talking about the medical industrial complex, tearing apart every single one of these systems and starting from the ground up. It's so much deeper than the police. Saying we want reform for the police is like saying we want reform for slave catchers. I'm not saying defunding work isn't important. It is. It's a step. But I know a ton of places will be ok with just that step. And that's not enough. The same system that allows police to kill, allows the medical industry to pick and choose who gets to live and who gets to die. It's the same shit.
I remember one time, I was in the emergency room and I was having a severe asthma attack. I'm telling the nurse, "I can't breathe," and she starts playing with my hair saying, "oh my god, I love your hair," while putting the medication I need down on the bed so she can use both her hands. It's all these systems that made me an object before a patient. This year, I finally found a trans competent doctor. I'm finally in a doctor's office that calls me by my chosen name. I'm being honest for the first time in my whole life. For the first time I'm a whole person and not just a chart.
And don't doubt it for a moment, this government backs the police. Minneapolis is going to be the place that everyone is watching. It's dope to see it happening in multiple places at once, because I think it makes it harder to destroy the whole thing.
Stickii: They free the slaves, then Jim Crow. The government is not the ticket to freedom.
Shae Shae: We've seen it so many times. Even in the last 100 years, every time Blackness has challenged the state, it is used as a weapon against our survival. I hope people stay angry. I hope people stay united. I hope people push themselves to fight for better and actually follow the lead of folks who can actually get us free. I hope people are willing to learn. I hope people are willing to teach. No transition is without struggle. I believe in returning something to the Earth and letting it come back in a different form. Burn it all down and let it regrow. I feel very strongly that that is what this has to look like. It has to die in order for everything to be good. I never thought I would see liberation in a real way. I don't think I will at the end of my life. But, I always pray for better for my community. I always hope for better for us. That's why shit is happening. Folks are fed up, we are fed up.
Years ago, I would have never thought we would be here now. We just had a conversation with our friend and were talking about how interesting it is that all these protests are popping off now. They've been killing babies, and we were mad, but collectively we weren't mad enough. Why would the death of this particular Black man be the thing that set the world on fire? It really is just a perfect storm. I am seeing more and more people being pulled further and further away from these ideologies that they have clung to for the facade of safety for their community. As much as I'm angry and bitter wondering where the fuck they were until now, it's clear something is shifting. It's about the love young folks have for each other that I think is so key to this.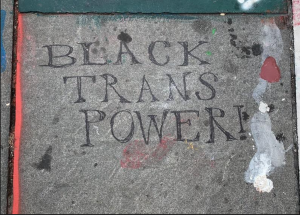 Stickii: We were talking the other day about how there's Black trans folks all over the place trying to create systems, where they are talking about developing technologies that could ping a system for community response. Building from the ground up to hold their own communities together. That's where we need to reallocate resources.
Shae Shae: We've been thinking about a world without policing, a world where we can actually survive, a world where drugs are above ground, a world where people don't have to pay to get their medical needs met, where people don't have to choose between dying or paying hundreds of thousands of dollars of bills. It's not just this one moment. It's not just this one part of the system. I know that eventually this shit will collapse. I just hope the collapse is not at the expense of the people who are struggling the most.
Stickii: I had so much fear during this time. How can we create a strategy for how to survive this shit? We got a couple dollars under the mattress. We could go out and buy a weapon. But I'm terrified if I go buy a gun, am I going to have the feds at my door? Where I grew up, for my White uncle who sold guns, it was just normal. He grew up shooting shit. It's so normalized in white culture. We have been generationally trained, generationally stripped of our right to self defense. I wonder, can I go to the gun range? When I am in a space where I can purchase my own weapon, would that make me an even bigger threat to the state? Black folks are afraid to carry a handgun even with a license. But for white folks, for a white prepper, general entitlement over land and bodily autonomy seems normal. Black folks have never even tasted enough of what it's like to have bodily autonomy, the right to protect your home and to protect your people. We haven't decided whether or not it's even real. But, I do think there are pockets of people preparing, but it has to be in such secret, behind closed doors, there's no way to tell.
Shae Shae: My advice is to follow Black Trans women, follow Black Trans men, follow Black nonbinary folks.
Stickii: Cyree Jarelle speaks on disability and Blackness and transness and what it's like when people dont believe femme bodied folks could be on the spectrum, and what it's like going through life as a young person. Their story and their ideology is beautiful. Painful af tho. Also Black Trans Media Collective in New York is also fucking awesome. They are life lines. Feeding and housing folk through the pandemic and beyond. While documenting and sharing folk's true narrative. Support their work.
Shae Shae: So many dope people. Elle Herns is amazing. She is the founder of Marsha P Johnson Institute in New York. Ceci McDonald's story highlights so many things and we've had the pleasure of knowing these people personally and also being able to interview them in spaces and really get into their ideology. Ms. Major always and forever. We've been imagining our future for so fucking long because none of these systems have let us be ok, because I'm telling you we are going through shit and we know what we need.
***