Recently we had a chance to talk with Jasmine from Southern Solidarity, a mutual aid collective distributing food and supplies to the unhoused people of New Orleans. The COVID-19 death rate in the crescent city is higher per capita than in any other area in the entire nation. New Orleans politicians and non-profits have done very little to respond to the needs of the city's growing houseless population. For instance, amid the COVID-19 crisis, UNITY of New Orleans (a major non-profit organization providing housing to and services to the houseless) provided temporary housing only for a small portion of the overall houseless population, creating divisions and anger among those left behind. Every day at 4pm, volunteers with Solidarity South drive around New Orleans delivering food, medicine and clothing to hundreds of residents neglected by the state and non-profit organizations. In this interview, Jasmine discusses the impact of COVID-19 on NOLA's unhoused black communities and how mutual-aid can connect with other long-term strategies of solidarity and collective action struggles against racial inequality and for wealth redistribution.
Can you tell us a little bit about yourself and how you came to do mutual aid in New Orleans?
I am a Black queer Marxist feminist writer and organizer. I have been organizing in New Orleans where I have lived for the past 7 years.
This mutual aid work started shortly after the shutdown. I was walking around New Orleans and noticed that the unhoused were being neglected by the government during as the city was shutting down. People who rely on loose change or discarded food from tourists, those with mental health concerns or severe head trauma were completely abandoned by the state. I knew that they weren't getting the information they needed about what was happening with COVID-19.  I mobilized volunteers and we grew from just a few volunteers into a group of about 30 people with a specific vision. We even have a sibling project in Oakland called Oakland solidarity.
Can you tell us more about what you do, what does your work look like day to day?
Southern Solidarity is a community-based grassroots group who works with the unhoused. We are not working with the government or any church group. We are in partnership with those who do organizing and work around permanent housing in New Orleans. We deliver food and medical resources because the government does not. We go out every day at 4pm and we spend 4 hours every day serving 200-250 people.  Some days we feed up to 400 people.
We are lucky to have expanded to now provide more than just food. Everyday several volunteers meet at 4pm to begin prep because we are following CDC guidelines while preparing and distributing food. So, to prepare the food we first gear up and put on N95 masks, face shields, gloves. I have a two-story house and that allows us to socially distance. Three people prepare the food upstairs and another three people do the same downstairs.  We sanitize every Costco packaging and item that people donate. We use restaurant grade disinfectant. We bag and load all of the food that we prepare onto a pick-up truck and then distribute all over downtown New Orleans. We primarily go to three neighborhoods: Treme, the central business district and the French Quarter.  The truck is filled with 200 bags of food and is trailed by a car filled with medical items, food, clothes, shoes and deodorant and anything that unhoused people may ask for.
Only people that are trained can do distribution and all of them are fully geared up. They wear masks and are covered head to toe.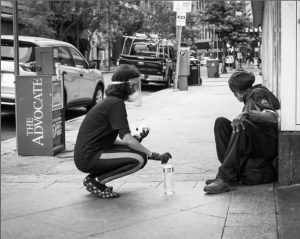 Photo by @seltzerphoteaux
What is NOLA like now amid the COVID-19 epidemic? What do you see when you drive through the city?
We don't see people struggling with Covid19. We see people struggling from the austerity measures of the last several decades: drug addiction, extreme poverty, mental health struggles. These are made worse by economic precarity.
The hashtag on your website is #solidaritynotcharity. Can you tell us a little bit about what you mean by that?
We center solidarity in that we are not providing handouts to the less fortunate. Solidarity is about joining others in our collective quest for liberation. Mutual aid is the reciprocal exchange of services but we are providing direct relief with anti-imperialist and internationalist underpinnings. All of us on the team have to center care and tenderness in an age of greed and fear. Understanding that your well-being is tied to the most vulnerable is important to process right now.
Can you elaborate on how anti-imperialist values shape your work on the ground?
First, I want to say that mutual aid is popping up all over America because people in America are noticing that capitalism is exploitation. Mutual aid is popping up in response to austerity because we finally understand that there aren't heroes or politicians coming in to save the day. We need redistribution of wealth and an emphasis on community to combat the damage that capitalism has done to us.
The production, consumption and extraction levels that capitalism demands threaten our existence on this planet.  Under capitalism, poverty is enforced so it's not natural. There is more than enough to attend to everyone's needs.
 Who are your volunteers? How do they relate to what ya'll are doing?
Many of them are people who were working in the service and tourist industry and have been laid off, many are activists, others are journalists and yoga teachers or educators. We have a wide range of workers but we are all committed to learning together. I am guiding the group in readings about feminist revolutionary theory, for instance. Some of the volunteers join us not knowing a lot about liberation movements. I think they are learning that you can call yourself the name that describes the work that you are doing, whether it be socialist, leftist, Marxist, anarchist, or feminist or what you think fits best.
We are engaged in training. The first training was on harm reduction and how to administer Narcan. Secondly we are engaging in anti-racist training. I think this is where consciousness raising is happening.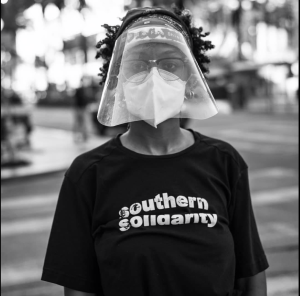 What have you encountered in your daily runs that has surprised you? 
The prevalence of drug addiction. For instance, we witnessed a man that passed away from a drug overdose. It's a big struggle in the unhoused community more so than COVID-19. Drug addiction had likely been agitated by the pandemic. That's when we realized we should get trained in harm reduction.
We are  surprised by how the unhoused folks are to see us come back. For instance, there is a family we usually see everyday. They are always surprised that we come back day after day. They tell us"ya'll are more on point than the government"
New Orleans has weathered so many disasters and displacements. This coming summer will mark the third-year anniversary of Hurricane Harvey and the 15th year anniversary of Katrina. People lost their homes, jobs livelihoods. Any thoughts on the similarities between the past and current crisis? What sort of marks will this pandemic leave on the city?
We are seeing more and more black people disproportionately affected by climate crisis, economic crisis and health crisis. We are learning that we cannot avoid structural inequities in America. The governor of Louisiana was surprised that black people were dying at twice the rate of white people. People who are angered by and very clearly see the negligence of politicians are supporting mutual aid.
There is a lot of negligence by the government. Between 2012 and 2016 rent has increased by 25%. By 2019,  almost 1200 people were unhoused. Politicians however continue to side with developers. They say we don't have the money to create permanent housing. But money suddenly appears when they want to renovate the airport or Superdome. As writer Keeanga-Yahmatta Taylor says, the problem is that we have left a public good to the private sector.
What has been the particular response of government officials to the housing problem in particular?
On March 26, 2020, in response to COVID-19, the city relocated less than 200 people to a hotel but only temporarily. Hundreds were abandoned. Only placing a few hundred people in a hotel created a lot of anger and trauma among the unhoused people. They struggled with a sense of worthlessness.
When we first started our work, we were confronted by distrust from the unhoused population. The unhoused were angry.  We had to spend weeks building trust and continue to do so.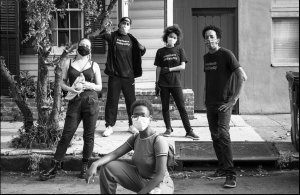 I read this piece recently that a good friend forwarded me about the impact of the yellow fever in antebellum New Orleans and how it combined with the racial order under slavery to produce new social norms. For instance, many of the survivors or those "acclimated" gained immunity from the disease and held an elevated social position in society. Surviving yellow fever became proof that whites were chosen by God. So, they got all the good jobs et. The deaths incurred from yellow fever also became a powerful pro-slavery argument that black people should be imported because they allegedly had immunity. In many ways every crisis that has hit New Orleans has created new cleavages along race and class lines. Flashforward to today, to 2020 and COVID-19. What kind of social hierarchies can we imagine a pandemic like this creating in NOLA? How can we struggle against them?
I don't want to spend too much time theorizing about the negative impacts of the pandemic, although the threat is there. I am hopeful about what this will mean for the near future in terms of organizing. We have to use this moment to insert our radical imagination. In NOLA, there are various housing organizations that are having rallies to demand permanent housing and we are joining them on May 1st.
More than ever people are focused on the understanding that if someone is exploited you should do something about it because we can see how we are tied to each other's well-being. That is radical!
It's amazing to hear how hopeful you are at a time like this. What gives you the energy to organize mutual aid in this moment? 
One can no longer turn a blind eye to exploitation. The pandemic has revealed that your own well-being is tied to that of the most oppressed. If your well-being is dependent on the well-being of the most oppressed then we are all connected and capitalism clearly fails us an economic and political system. Communities can and should rise up and fight against state failure by providing direct relief while simultaneously organizing against oppressive forces. Direct relief efforts can serve as a great catalyst for the left to build power so long as the work ties back to coalitions seeking to dismantle larger forces of oppression.
You can support the work of Southern Solidarity by donating to their Go Fund Me campaign or directly on their site – southernsolidarity.org.
***
Over the next days and weeks we hope to continue publishing stories about daily life amid the Coronavirus. We are looking for testimonials from everyday people about workplace safety, unemployment and housing issues, struggles with paying bills and taking care of their loved ones as well as any acts of solidarity and collective action in these very difficult times. We want to hear from you! If you have a story that you want to share with us, please email the editor at editor@hardcrackers.com.