Plunder
"No nos toca;" basically, "it's not our problem." That's what the municipal police officer told community members of Cruztón after paramilitaries ambushed a group of land defenders and assassinated Rodrigo Guadalupe Huét Gómez, a father, husband, son, and friend of many. Cruztón is a small community in Los Altos of Chiapas in southeastern Mexico whose land struggles, in many ways, date back to the 1970's. In others, of course, they date back 400 years.
In the most recent instance, property owners from the neighboring Ejido Guadalupe Victoria had been trying to lay claim to Cruzton's cemetery, a lush parcel of land that sat atop a forested hill about a half mile from the center of town. The community of Cruztón, like so many others in the region, is organized with an autonomous government structure, which they call Semilla Digna. Through the rich insurgent legacies of Chiapas, a constellation of radical formations permeates the political terrain and social ecology of the region, constituting small towns like Cruztón at the intersections of multiple autonomous organizations, from Semilla Digna, to Las Abejas, to the well known Zapatistas. All of these groups share the common goal of a decolonized future for their territory and a realization of Emiliano Zapata's affirmation that la tierra es de quien la trabaja; the land is of those who work it.
After the Mexican revolution at the beginning of the 20th century, Mexico passed sweeping agrarian reform, which many consider to this day to be the most progressive agrarian reform on record on the American continent. While the 1917 Mexican constitution established the famed Ejido system that restricted private property ownership and redistributed lands to communities to farm communally based on usufruct, it also concentrated legal ownership in the hands of the state and therefore limited the extent to which it truly granted all of the rights to self-determination. In doing so, it laid the groundwork for the neoliberal backpedalling and privatization that was to come at the end of the 20th century. While the Ejido system never offered a truly decolonized example of land tenure because it failed to break up major haciendas and redistribute much of the land it was expected to and because it left local elites and state functionaries ample leeway to do as they chose with land in their domain, it did preserve for many a sense of communal rights and a possibility of ongoing wellbeing and collective sustenance.
In 1994, however, the North American Free Trade Agreement annulled many of the most progressive pieces of the 1917 constitution. Most infamously, Article 27, which was for many the cornerstone of Emiliano Zapata's revolutionary program and which formed the foundation of the Ejido system that sought to protect and ensure indigenous territory for indigenous communities, was stricken and Ejidos were opened up for sale on the private market. In practice, this was nothing entirely new and the legal codification of land dispossession was but a formality, but it spelled what the Zapatista's have called a "death sentence" for campesinos and indigenous communities in Mexico.
For at least three years prior to my arrival in Cruztón, Semilla Digna had been organizing land defense against incursions from a group of property owners from neighboring Guadalupe Victoria. Primarily, this group had targeted Cruztón's cemetery, but they had also cut trees in Cruztón's limits without permission and destroyed their milpas, the centerpiece of rural Mexican life, along with intimidation along the roads and kidnappings and torture of community members for ransom. Just prior to our arrival, members of the antagonistic group that called themselves Nuevo Guadalupe Victoria had desecrated the tombstones of Cruztón's cemetery, where community members say their grandparents' grandparents were buried.
Land dispossession strikes through communal space-time, disrupting ancestral inheritances and fracturing land-based intergenerational continuity while threatening communities' material future by undermining their means of social reproduction. In targeting Cruztón's cemetery and milpas, indispensible spaces of spiritual and material sustenance for the community, Nuevo Guadalupe Victoria had undertaken a project of simultaneous spacio-temporal erasure and foreclosure: erasing the pasts on which the present was built and foreclosing the futures dependent on the inhabitance of these spaces.
I arrived in Cruztón in 2017 working with the Centro de Derechos Humanos Fray Bartolomé de las Casas, which was founded in 1988 as a civil society organization working in solidarity with indigenous communities in Chiapas. Struggling against consistent state, paramilitary, and private corporate repression and dispossession, many communities throughout Chiapas have formed close bonds with FrayBa, as it's commonly known, and other solidarity organizations to support them in mobilizing funds, legal defense, national and international awareness around their struggles, and physical support in the defense of their communities and lands. Because of remote locations, limited communications infrastructure, and low capacity, many communities like Cruztón who are experiencing acute conflict request physical accompaniment from solidarity organizations like FrayBa. In our case, we arrived at the height of the conflict as members of Semilla Digna decided to occupy their cemetery to defend it against Nuevo Guadalupe Victoria.
The first weeks consisted of a series of briefings, and felt like the proverbial calm before the storm. Our hosts eagerly taught us about the formation of their autonomous government structure, the specific history of their area, the escalation of conflict with Nuevo Guadalupe Victoria, and their goals, strategy, and analysis of the situation. We attended formal meetings as a group of community members decided to occupy their cemetery and took their position, but we also worked in the fields as we spoke, enjoyed warm hand-made corn tortillas as we listened to stories of land defense, marveled at the abundant mangos and jackfruit as we reflected on the likely composition of the struggle to come, and watched the geckoes find refuge in the shadows in moments of quiet. Then, we were awakened one morning to the news that there had been an ambush at the cemetery.
At around 3am a few days after the occupation's inception, shots began to ring out from high caliber, semi-automatic assault rifles and snipers. The land defenders realized they were trapped in their cemetery, surrounded on three sides by a triangle formation of assailants. Along with the rest of the community, we rushed to the lookout point at the corner of town, from which we could see the hill atop which the cemetery sat. We stood at the precipice and listened as shots pierced and ripped through the soundscape throughout the early morning hours. Word came through a handheld radio that a land defender had been shot in the first moments of the ambush, but the specifics remained hazy in the chaos. Immediately, community members contacted local authorities, with whom they had a fraught relationship. The year before, after the kidnapping and torture of one member of Semilla Digna, the community had gone to the municipality for support, but ended negotiations when the only offering was to establish a military garrison in the town and increase patrols.
The families in Cruztón believe that it's likely there are transnational interests behind the incursions into their lands. While Nuevo Guadalupe Victoria has been the face of the onslaught, planting marijuana groves in their cemetery, threatening community members, and burning their milpas, it's rare that the story of land disputes stops at the inter-communal level. The region surrounding Cruztón is rich in silver and gold, and community members were quick to explain that mining companies consistently made legal attempts to expropriate their lands. When they fail in the courts, companies turn to hiring paramilitary groups to do their dirty work. The ambush that morning confirmed the community's fears.
The attackers were not recognizable members of Nuevo Guadalupe Victoria, all of whom are well known men in the area. They were, rather, professionally trained militants well equipped with expensive military technology, not something that one comes across easily in rural Chiapas, unless there's a connection to the state or transnational capital. Within this context, when the municipality offered "protection" in the form of heightened military presence the year before, people felt more threatened than supported. Autonomous governments like Semilla Digna have an inherently antagonistic relationship with the Mexican state, and any increase in military presence means the increased facility of state surveillance and ever-imminent repression. The community saw the municipality's suggestion of increased military presence in the region as opening the door for the mining companies to have a greater foothold in the region without having to employ the paramilitaries, because the state and the military would do their work for them.
After the initial call was made before dawn, the local authorities (police and ambulance) didn't arrive until close to 10am, more than 6 hours later. When they approached the base of the cemetery's hill, which the paramilitaries had blockaded from entry or exit, the latter denied passage to the authorities under shady circumstances in an exchange none of us had a full grasp on. After a few minutes of conversation, the police and the ambulance drove up to the lookout point where we were all congregated and told us there was nothing they could do, that this region wasn't really even in their jurisdiction, and that, essentially, the community would just have to figure it out.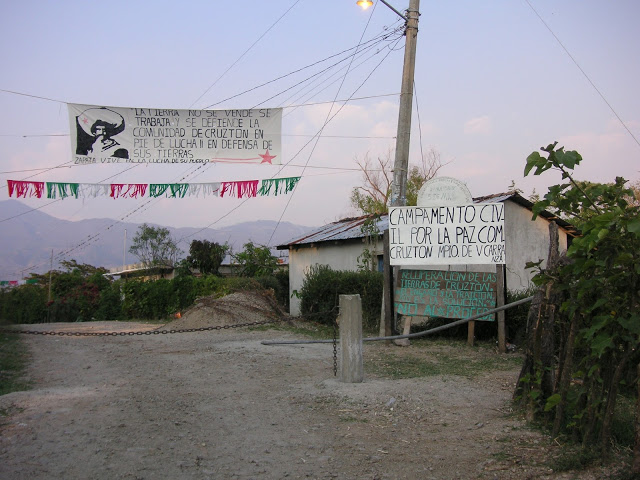 The exchange between the police and the community that morning epitomizes what many in Mexico call "state abandonment." The state has, in this view, left many rural and indigenous communities behind to fall prey to the whims of international capital and local conflicts instigated by external forces. The reality, however, is much more sinister. More than state abandonment, many speak of the narco-state: the total integration of the narco-economy and power structure into the state apparatus, which is intimately enmeshed with the licit economy and transnational free trade interests. In Cruztón, we saw this play out directly, as the state offered its presence when it might be advantageous to its interests and the interests of those with whom it was allied: according to the community members of Cruztón, the mining companies and the mini-narcos (who are always connected to bigger narcos) Nuevo Guadalupe Victoria. When it doesn't serve their interests, the state is quick to use recourse to "jurisdiction," boundaries, bordering, othering, particularly of indigenous communities, to claim helplessness: "no nos toca," "this is not our problem."
Later in the afternoon, the land defenders negotiated a temporary truce with the assailants and descended from the hill. They carried down the body of their fallen comrade, for whom we prepared a funeral and memorial service. His body was later buried in Cruztón's cemetery, so close to the site of his assassination, joining those who struggled before him to fertilize the soils of future resistance and literally ground his community's connection to their ancestral territory. In Lupe's assassination are woven the threads of centuries of struggle against the bedrock of colonialism and capitalist accumulation: land dispossession. The most central struggle in Chiapas, the struggle over land sits at the confluence of the opening of the economy to unbridled transnational imposition and a Mexican state struggling to retain a semblance of power and legitimacy. For communities in the crosshairs, this means constant state repression and paramilitary violence for the sake of land expropriation and capital accumulation. As a result, and despite robust autonomous social and political infrastructures and world-historic movements for land defense and community resilience, Chiapas still consistently sends the most migrants to the United States of any Mexican state apart from Guanajuato, according to the Migration Policy Institute.
The story of Cruztón is the story of the regional destabilization that borders as portals for transnational capital have precipitated. The neoliberal border is the condition of possibility for projects of plunder like NAFTA, for their development and implementation, their enforcement and repercussions, and the broader regimes and histories of which they form a part. Plunder, the expropriation of land and dispossession of livelihoods for the sake of resource extraction and labor exploitation, and the violence and conflict it requires, drives people to migrate.
The border, then, is a hepatic vein for capital, a differentiating force that functions as a filter, porous to the products of plunder. While capital and the labor it necessitates gush through borders-as-channels from the people and places designated for plunder, the filter clots around surplus and subaltern subjectivities recruited into the reserve army of labor or worse. The struggle of our comrades in Los Altos of Chiapas opens to common and diverse stories of passage and prison as people seek to lay claim to the wealth that's been stolen from them, transported to a far away land, and guarded with militarized borders and security technologies.
Passage
"¡El tren! ¡Ahí viene el tren!" the men from the rooftop had yelled the night before Josue came limping back to the house. Josue had embarked on this journey from the northern city of San Pedro Sula in Honduras towards el norte on "at least" 5 previous occasions (he wasn't entirely sure and said that they had all started to blend together). Although he had been detained and deported from various states in both Mexico and the US, he was quick to claim that he hadn't encountered much trouble on his previous passages. This warm, thick-aired night, however, he was awakened from his train-top slumber to the sounds of yelling and machetes swooshing through the air. Just in time, he hurled himself from La Bestia.
Everyone knows the train is a perilous tool on the passage north. Everyone also knows that home is perilous and even el norte itself is perilous. Around the lunch table at the migrant house in Tenosique, Tabasco, people share their stories of the 5, 7, or 12 journeys they've previously taken: how and when they were detained; the extortion and abandonment of coyotes; and the constant threat of simple robbery. This particular migrant house continues to bustle through regime changes in the US and Mexico, through policy shifts and corruption scandals in Honduras, through new seasonalities as the climates throughout Mesoamerica shift in ways before unseen, and through global pandemics. It's called La 72, named for the 72 migrants whose lives were taken by Los Zetas cartel in Tamaulipas in 2010, and it sits in the lowland jungle of the state of Tabasco about 20 miles from the Guatemala border at the first stop on the train north, commonly called La Bestia by its passengers.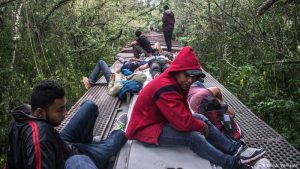 This was 2017, and most people were coming from Honduras. A US-backed coup in 2009 had ousted president Manuel Zelaya, who had expressed affinity with the Maduro regime in Venezuela and taken stances against US action in the region. Honduras is a geopolitically strategic base-point for the US war on drugs and the perceived specter of socialism in South America, and such stances from a political leader in this territory were clearly unacceptable. The US propped up the current president Juan Orlando Hernández amidst the wreckage of mass unemployment and rural land loss resulting from the coup. Hernández's puppet regime responded to these challenges with the perfect cocktail of domestic austerity and total deference to North American capital. Usually leaving their homes on foot, those following the trail of their stolen livelihoods swept northward by these crusades of capital arrived at La 72 with bloated blisters and sun-soaked shoulders after two days of walking. Each morning the sun greeted the house with a soundtrack of Bad Bunny, Ozuna, and Jon Z's angsty auto-tuned belting as the kitchen prepared to feed breakfast to the few hundred travellers who rested there.
Sweating in Tenosique's humid lowland heat over scrambled eggs, sweet bread, and sugar-coffee, migrants chatted about the impacts of the 2009 coup, the increasingly expansive so-called "dry-corridor" through Central America, and the impact of las maras, the gangs that run more and more of the countries in Honduras and El Salvador, and, to a slightly lesser extent, Guatemala and Nicaragua. In these conversations, layered pressures towards movement emerge to reveal shifting and multi-dimensional forces foreclosing possibilities of traditional communal social reproduction and propelling people to new places across landscapes of violence.
In the beginning of most conversations, travellers like Josue tend to emphasize that they have to move because of economic reasons: "no hay trabajo;" "There's no work." Josue had rolled a cart of cold drinks and fresh fruit around his neighborhood off and on for the previous few years in lieu of more formal wage work. Feuds between Mara Salvatrucha and Barrio 18 led to increased threats of violence on non-combatants and taxes for loyalty that were unavoidable except by death, making the precarity of cart-pushing both economically untenable and an immediate risk to his life. Beneath the economic reasons as such, then, lies the brutality of Honduras' gang regime, itself emerging from the gory everted entrails of US interventionism and territorial destabilization.
Following the Second World War, the United States sought to consolidate its dominance over the Central American economy, shifting from one based on smallholder farms to one dependent on foreign banking capital for the development of industrial export agriculture and manufacturing. Dispossessed campesinos, of course, did not just roll over and submit in the face of land tenure manipulation, labor coercion, and political corruption. After the CIA supported a 1954 coup of democratically elected President Jacobo Arbenz, who dared to challenge the United Fruit Company in Guatemala, the country fractured into a 34-year civil war that killed over 200,000 people. In 2013, the US-backed president Efraín Ríos-Montt was convicted of genocide and crimes against humanity for his role in the so-called civil war. The Sandinista National Liberation Front in Nicaragua, with both Cuban and Soviet support, and the Farabundo Martí National Libration Front in El Salvador, among other guerrilla factions, fought against right-wing military dictatorships and foreign political and economic domination in their countries. The United States, shaken in the midst of a paranoid Cold War fever dream from which it has yet to awaken, began to use Honduras as a critical base point in its war on communism and threats to US interests in the region, training and deploying the infamous Contras in Nicaragua, and supplying over $4 billion in aid to the military-led junta government regime in El Salvador.
It was these territorial wars, these plunderous earthquakes, that sent waves of Central Americans to the US in great numbers for the first time. Settling in places like Los Angeles in the 1980's, refugees were confronted with the devastating realities of US segregation, repression, and inter-communal violence in the Reagan-era crack years. It was here that formations like Mara Salvatrucha and Barrio 18 were birthed. These groups became transnational criminal enterprises when mass-deportations sent thousands of people to Central America in the wake of the end of the Salvadoran Civil War in 1992, the Guatemalan Civil War in 1996, and the hyper-criminalization of immigration that came with the passage of Bill Clinton's Illegal Immigration Reform and Immigrant Responsibility Act in the latter year. Born and incubated in the United States before being deported to Central America in one iteration of borders-as-passage, the imported gang regime quickly filled the power vacuum left by decades of political destabilization for the ends of neoliberal economic restructuring and borders-as-plunder.
Josue wasn't originally from San Pedro Sula, though. Before he became a migrant headed north, he was already an internally displaced person as his family had been dispossessed of their coffee farm in 2012. Brutal droughts and depleted topsoil from decades of industrial production of cash crops like bananas and palm oil leave withered and cracked the once fertile possibilities of smallholder farming in many regions of Central America. Combined with neoliberal pressure to enter the "formal" market, one left in shambles in the wake of the 2009 coup, and take on debt to finance fertilizer, pesticides, and planting and harvesting technologies, decreased yield from an exhausted earth leaves farmers crippled and without recourse to a sustaining livelihood for themselves and their families. Many, like Josue, migrate to the cities to find work where they are in turn caught between the stick of unemployment and the gun of the gang-state. As small farmers like Josue are forced out, large landholders and transnational corporations happily subsume these territories into their expanding portfolios. These landholders and corporations thus inherit the legacies of the anti-communist-turned-neoliberal interventions of the latter half of the 20th century that midwifed the rise of the gangs that threatened Josue's life in San Pedro Sula.
Both beyond and interwoven with the violence of so-called organized crime, then, is the free trade organization desecrating once lush terrains in its project of privatization to its logical extent and accumulation by dispossession of life. Honduras has long been considered a strategic asset for the US and the 2009 coup was only the most recent instance of territorial destabilization that has led to an economy dependent on both transnational extractive capital and gang warfare, composing itself along a thin line of licit and illicit formations. With nothing to grow and no more land on which to try, Josue made the journey to the city, only to find an equally vacuous set of non-opportunities framed as it were by death on all sides.
The swoosh of the machete from atop La Bestia was only the most recent in a cascade of attempts on Josue's life, dating to long before his birth, from which he had to repeatedly hurl himself to some semblance of safety. The morning he returned to La 72, he limped with a spring in his step, hurriedly sharing his plans to acquire a humanitarian visa, also called a U-visa, from the Mexican government. A U-visa is a special authorization for foreign nationals who have suffered injuries or been the victims of crimes in Mexican territory to be able to recover and seek the services they need. These visas allow non-citizens to remain in and move freely between Mexican states without the risk of capture and deportation. For migrants, they often serve as an express pass to the US/Mexico border and as a source of security when maneuvering Mexican cities to earn a living on their journey.
As migrants navigate perilous landscapes between MS-13 and Barrio 18, between la migra and the petty robbers and extortionists along the Mexico/Guatemala border, between Los Zetas and Los Aztecas in the north, treacherous coyotes and predatory employers, and desolate desert terrains and thick Dengue-filled rainforests, they also direct themselves through labyrinth bureaucracies, appropriating certain pathways for their own protection, benefit, and facility in their journeys. People find ways to resist coagulation and remain liquid through the sclerotic arteries that seek to constrict them.
Discussing Josue's plan to apply for a U-visa, we reflected on the different strategies people employ to buffer themselves from risk along the journey and open horizons "para sacarse adelante," to keep progressing, to get ahead. Many people seek asylum in Mexico, a process that can take years, in order to either remain there or have an easier journey to the US.  Once one formally begins the asylum process, it is possible to have some allowances for work. Others, recognizing that if one gains asylum in Mexico one may not be able to then apply in the US, opt for a different route. Another benefit, others wager, is that if asylum is granted in Mexico and one subsequently arrives in and is deported from the US, one must legally be deported to Mexico, an important possibility for those who wish to avoid their countries of origin at all costs. Migrants busily discuss the pros and cons of various legal avenues while poring over maps to visualize their capillary pathways northward and track the different train connections, risky areas, and familiar terrains through which they've already given passage.
The U-visa also requires months of interviews, documentation, and paperwork, but is generally a faster process than the asylum claim and more likely to have the desired outcome. During this process, Josue was to stay at La 72 and join the dozens of other longer-term residents, each forging their way through their own maze of migratory bureaucracy, dancing along the tightrope of legality and staking a claim to a full life in the process.
After a few years in San Pedro Sula, Josue had become what he and so many others called "a full time migrant." He had spent virtually all of the previous 2 years in passage, walking, hopping the train, trying the bus, and being apprehended and deported time and again. He recounted that on the most recent occasions he would start his walk north directly from the planes that deported him to Tegucigalpa or San Pedro Sula, not even spending a night in the cities: "bajo del avión y empiezo a caminar;" "I get off the plane and I start to walk," with the same little backpack and the same shoes on his feet. As he reflected on his existence in transit, existence as transit, he beamed at the possibility of the security of a U-visa to ensure him at least a number of months in Mexico.
He had only made it to the United States once before, and had been swept up and held in detention in Houston for months before being deported. Driven by plunder from his home, transnational capital seeks to capture Josue in a maximally exploitable labor force, cutting off recourse to legal protections and economic alternatives and relegating his search for a good life to their search for cheap labor. In his life of passage, however, Josue refuses the theft of his agency, and seeks to fulfill the stake he holds in realizing his own future. Pressured and channeled from place to place across territories both familiar and new, passage is given form in prison not only as a detention from motion, but also as a springboard to it.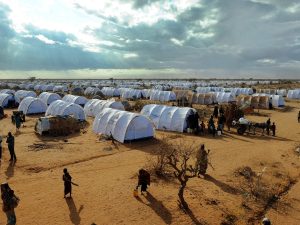 Prison
In a cramped courtroom on the seventh floor of a Boston, Massachusetts federal building, Abdi's life was being decided upon. Born in Dadaab refugee camp in Kenya, the world's largest with well over 200,000 documented inhabitants, Abdi had never set foot in Somalia. After the US voted to discontinue foreign aid to the authoritarian Siyad Barre regime in 1990, which up until that point had been propped up by US support to undermine the possibility of Soviet influence during the Cold War, the government collapsed and the militant disorder bubbling under the tight lid of totalitarian control burst to the surface. Within the first three years of the collapse, millions of people fled Somalia, many on foot and most arriving in Kenya. Abdi's family was among those displaced.
Opening the carceral theater in that tiny room in Boston, Abdi was marched out with a group of others sequestered by the state in the classic orange jumpsuit, shuffling and shackled at the hands and feet. Tattoos decorated his arms and hands, which lay folded on his lap as he sat patiently waiting for his case to be called. Abdi is Bantu, meaning his family comes from southern Somalia and his ancestors were kidnapped from places like Tanzania and Mozambique to serve as slave labor for ethnic Somalis. Bantus, mostly rural farmers, are heavily discriminated against by the dominant ethnic Somalis. Southern Somalia, home to most Somali Bantus, was decimated by the violence following the collapse of Siyad Barre's regime, and Bantus continue to face increased instances of violence on their journeys and in refugee camps.
The UNHCR created special provisions for Somali Bantus because of the pervasive and systemic historical violence and discrimination they face as a previously enslaved ethnic group in Somalia. Tens of thousands have been resettled all over the world, including in the United States. Abdi's family initially settled in Kansas when he was three, but after his mother passed away and waves of Somalis made their way through kinship networks to Maine, he found himself in a small post-industrial mill town called Lewiston.
Lewiston in many ways embodies the trials and tribulations of rural northern factory towns obliterated by neoliberal industrial flight since the 1980's. At one point a textile- and lumber-processing hub, a torrent of factory closures led to a degradation of the social fabric, increasing crime and drug afflictions, and high levels of vacancy in the small city. Somalis who were initially resettled in places like Clarkston, Georgia outside of Atlanta, and experienced acute inter-communal violence and tight urban living conditions, quickly went looking for alternatives. When some made it up to Maine and discovered the cheap, empty buildings in Lewiston and the potential for abundant farmland, many more quickly followed.
Abdi settled in Lewiston before there was any real community infrastructure to support Somali youth. Schools, hospitals, and government agencies were not prepared for people with such a different linguistic and cultural background. Immigrant and refugee families faced a heavy presence of far-right and reactionary anti-immigrant hostility in educational institutions, local government, and the police department. Somali youth realized a multi-layered bogeyman for the dispossessed white working class town: not only are they Black, but they're also immigrants, and not only are they Black immigrants, but they're also Muslim Black immigrants. Abdi was targeted by law enforcement from a young age, and had a long rap sheet by the time he was picked up on the drug charges that led to his potential deportation.
After seeing all of the other defendants, the judge called for Abdi's case to be seen. In a turn of phrase that could hardly be more revealing, it was Abdi "vs. the government." Abdi sat stoically at the bench to defend himself against the United States. A prosecutor whose pernicious harassment and abuse of witnesses and defendants somehow brought to mind the serpentine qualities of a hyena represented the state's explicit goal and intention to deport Abdi, who after living in the United States for almost two decades, the vast majority of his life, had never conceived of such a possibility. Orphaned at the age of nine, and moving thereafter between his sister's and his uncle's crowded apartments, he had not thought to prioritize the citizenship exam, thinking his refugee status gave him residential security.
The prosecutor, whose job it is to sit in that courtroom each day and argue for the deportation of as many people as possible, first began to slander Abdi's character. He lamented all of Abdi's past convictions, his educational, housing, and employment records, building plot tension towards the most egregious fact of all: Abdi did not even own any property. Abdi was seen as deportable not only because of his crimes or birthplace, but because he failed to integrate himself into the most basic vocation of liberal democratic citizenship: property ownership. Without property, the state considered Abdi a legitimate non-citizen, a less-than-human non-subject disposable at will.
Abdi's defense was based on the fact that if he were to be returned to Somalia he would face almost certain torture and death both because of his Bantu identity and as an American. Al Shabaab, an Islamic extremist terrorist organization, has filled the void left by the U.S.-precipitated territorial destabilization and now controls most regions of southern Somalia either directly or indirectly. Al Shabaab is heavily antagonistic towards people and things perceived as "Western" or "westernized," including Somalis deported from the US. Abdi, with his comfortable English, poor Somali language skills, and tattoo-adorned body, would be a walking target. To evaluate these claims of "credible fear," the prosecutor asked Abdi how he knew he was Bantu and if he had ever felt afraid of being deported to Somalia. The first question, of course, is nonsensical and meant as an intimidation tactic. The young man whose only life he has known is as a Bantu person in the United States and who has never set foot in Somalia answered earnestly that his older sister had told him they were Bantu and that "I never thought I would be deported to Somalia," to which the prosecutor and the judge exchanged skeptical glances and scoffed.
Of course, in the eyes of the state, Abdi's lack of connection to Somalia and ethnic identity is inconsequential, trivial at most. And this is not a unique story, although it is rare. The US government has successfully deported other people designated as refugees by the UNHCR. There are Somalis resettled to the United States with refugee status who have been returned to Somalia, even in the face of clear evidence that they would suffer violence or death. Another option, if Somalia refuses to accept the deportees (which is likely since there is no government), is to deport people to Kenya, which, like Abdi, is many young Somalis' place of birth. When Somalis get deported to Kenya, however, the Kenyan state often clandestinely returns them to Somalia. Nation-states in the global south function as the managers and herders of capital's surplus populations put in motion by the intervention of countries from the global north.
Throughout the day, the prosecutor and the judge met eyes as if sealing a secret pact as the prosecutor bullied witnesses and the defense attorney. At the time of the hearing, Abdi had been incarcerated awaiting his deportation trial for longer than he had been for his entire criminal sentence, locked up for over two years in total. When he completed his criminal sentence and was handed over to ICE, he was transferred to a facility in Massachusetts, since there is no immigration court in Maine and no facilities specifically for holding migrant detainees. This, of course, separated him from family even further than incarceration as such already had. Caravans of Toyota Siennas and Honda Odysseys made their way to visit Abdi whenever possible and those inside pooled money to pay for Abdi's defense.
In Abdi's story we see not only the border as the prison, but the prison as plunder and passage. This man was plundered from his community, after his family had been plundered from their homeland; his community's resources were plundered in transportation, phone, and commissary costs, and in the lousy lawyer's paycheck; there are plundered assets and plundered affects, as the psychological and emotional toll of incarceration and the threat of deportation into a situation of mortal danger weighs heavily on an entire community. This man, while being detained, was also in passage. In passage from his neighborhood to jail, to the immigration detention facility, back and forth to court, and with the imminent potential of a longer passage to somewhere yet unknown. A precarity of the present; prison as springboard, stopping point, stepping stone, in perpetual passage.
Coda
"Borders are set up to define the places that are safe and unsafe, to distinguish us from them… A borderland is a vague and undetermined place created by the emotional residue of an unnatural boundary. It is in a constant state of transition… The only 'legitimate' inhabitants are those in power, whites and those that align themselves with whites. Tension grips the inhabitants of the borderlands like a virus. Ambivalence and unrest reside there and death is no stranger."
–Gloria Anzaldúa, Borderlands
Gloria Anzaldúa calls the borderland "una herida abierta [an open wound] where the Third World grates against the first and bleeds." Borders are far more than the territorial delimitations of the sovereign zone of a nation-state. Borders envelope people and pervade terrains. They are assemblages channeling and managing populations and resources, conditioning and extending into and through different lifeworlds, forging pathways and mounting blockades, clearing and clotting, dissolving and congealing.
We might say we live in a global borderland, as borders are boundless territorially while bounding territory through bounding people. Borders permeate subjectivities, bleed into and around people and their relationships with family and ancestry, or grate up against them and cause them to bleed. Borders are a racializing endeavor, a venture towards othering and determining otherness. Regardless of geography, some people will never escape the inhabitance of a borderland, and some will never know it.
Borders delineate places and people to be plundered, and places and people to whom that plunder accumulates. The "constant state of transition" birthed by the border sediments into the ontological vocation of people in perpetual passage, para sacarse adelante, never fully allowed to settle, in pursuit of el norte, safety, fulfillment, a good life, freedom. Borders are both fluid and solid, and concretize in detention centers, prisons, factories and factory farms, occupied territories, and refugee camps. These instances of border-as-form facilitate border-as-plunder and border-as-passage, creating new means of extraction and catapulting people onto new paths and into unforeseen directions.
At the time of this writing, Cruztón and Semilla Digna continue their struggle for autonomy and self-determination in the face of incursions from transnational capital and the narco-state; they have yet to cede their cemetery. Josue is working construction in San Luis Potosí, Mexico and hasn't returned to Honduras since we met; he still plans to come to the United States. In the months following the inconclusive hearing, during which time Abdi remained incarcerated, the judge granted him protections under the Convention Against Torture, and a possible withholding of removal. CAT protects Abdi from deportation to Somalia because of the danger such a situation would put him in, but theoretically he may still be deported to Kenya; he has since been released from incarceration and resides with his wife and child in Lewiston.
Through plunder, passage, and prison, people persist.