"Against the Middle"
By John Garvey
There's a chapel in Kansas
Standing on the exact center of the lower forty-eight.
It never closes.
All are more than welcome
To come meet here, in the middle.
It's no secret the middle has been a hard place to get to lately
Between red and blue
Between servant and citizen
Between our freedom and our fear.
Now, fear has never been the best of who we are.
And as for freedom, it's not the property of just the fortunate few.
It belongs to us all.
Whoever you are, wherever you're from
It's what connects us.
And we need that connection.
We need the middle.
We just have to remember the very soil we stand on is common ground.
So, we can get there.
We can make it to the mountaintop
Through the desert
And we will cross this divide.
Our light has always found its way through the darkness
And there's hope on the road up ahead.
Bruce Springsteen may have brought down the TV house with his Super Bowl half-time spoken word performance.  As always, the performance reflected talent and style.  But it was way off key.
The word song begins with the observation that there's a chapel in Kansas that's in the middle of the country.  Maybe there is but I'm not sure that a chapel defines what's essential about America.  No choice of a definition is necessarily better than another but each choice sends us looking in different directions to understand what's right or what's really wrong.  Springsteen chose an image that eliminates quarrels.  But, in this day and time, quarrels need to be at the center of America.
Springsteen says that the middle is a hard place to get to.  Why?  It seems to me like it's a really easy place to get to—all you need to do is to watch CBS/NBC/ABC/CNN/MSNBC and you find the map to the middle.  I don't think that Springsteen was thinking when he wrote those words (if he did write them).  He got stuck with the "middle" and kept trying to make it work.  And did he work hard—so much so that he may have produced the single worst line in his song-writing career-"Between servant and citizen".  What in the world does that mean?  I'm afraid that it's just a line to fill out the song.
Freedom and fear—I'll grant you that fear is frightening, but without fear nothing important is really possible.  Think, for example, of the Civil Rights protesters who had to face down water hoses, dogs and crazed cops; think of soldiers in revolt against the war in Viet Nam who faced court martials; think, more recently, of the anti-police protesters of 2020 who faced battalions of police armed like soldiers ready to crush their heads and their spirits.  They knew real fear.  But that fear doesn't make an appearance in Springsteen's lyrics.  No, we know whose fear he's trying to appease.  And it's not the fear of those fighting for freedom.
Springsteen claims that freedom belongs to all; it's not so—freedom should belong to all. It doesn't and my best guess is that, in more than forty-five years of music making, Springsteen has never made that error before.  Whose lines was he writing or whose lines was he reciting?
And then he performs what can only be considered the equivalent of political/musical alchemy—turning one thing into something entirely different.  Freedom turns into the middle.  The middle of this country until 1863 thought that slavery was just fine.  And the middle in Germany from 1933 to 1945 thought that national socialism was also just fine.  The "middle" is the place where absent-mindedness, amnesia and cowardice rule the day.
Instead of gushing over what connects us, we need to know what divides us and figure out how to fight it out.  Hannah Arendt wrote a lot about the Dreyfus Affair in France and she commented that the political struggle over it broke apart every family in France.  Much the same happened in the US during the Civil Rights protests and the anti-Viet Nam war protests.  At a time when we need to fight it out, Springsteen is prescribing political morphine.
And then to add insult to injury, Springsteen claims that the "soil is common ground." Tell that to the Native Americans who have been holding on for dear life to the lands that were left to them.  Tell that to the kid from the South Bronx who's never been on the other side of the Hudson River.  Tell that to the families of West Virginia who've watched their mountaintops sliced off in the quick and easy extraction of coal.  I know, I know, he wasn't really talking about real soil.  But maybe he should have been.
I guess I'll stop.  One last thought—even though he pretends a bit at the end, Bruce Springsteen has turned out to be no Martin Luther King.  The mountaintop he's celebrating is more like a small hill.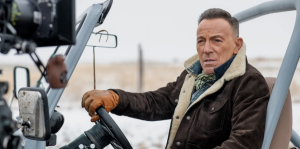 "Born to be in the Middle – The Wrong Message at the Wrong Time"
By Mike Morgan
"This town ain't got no hat size anyway" Slim Pickens in Pat Garrett and Billy the Kid
Bruce Springsteen broke one of his golden rules during last Sunday's Super Bowl television extravaganza.  He was the sole voice in a two-minute long Jeep commercial.  It could have been a song, but it was spoken word stuff, his version of a prayer of sorts.  Up until that point, Springsteen had eschewed being a spokesperson for corporate America.  This was his first advertisement.
I am going to make an assumption here that this wasn't penned by Madison Avenue spin doctors, but by Springsteen himself.  I could be wrong, but if I am that makes it even worse.
I have been a Bruce Springsteen loyalist since his first album "Greetings from Asbury Park" (1973) all that way up to his latest effort "Letter to You" (2020).  His music always spoke to me.  Some of these records were titanic, some not quite so much, but all were good enough and all contained hidden gems.  Even his countless interviews were worthy of following if only because he has an honest way of expressing himself.  I believe him to be an artist that should be listened to and taken seriously.  I'm not going to get into a long drawn out explanation of the reasons why here.  They've been gone over many times by others.  I make no apologies.  I don't regret being in the Bruce Springsteen camp over all of these years.  For me, a world without Springsteen is a less interesting place.
Therefore the Jeep ad hit me hard.  It wasn't just that he was shilling for Fiat Chrysler and most likely getting paid a king's ransom for doing so.  That was bad enough.  What was worse was what he had to say.  Allow me to vent a little bit here.  I have usually trusted Springsteen's interpretation of the mess that we are in.  I have rarely trusted what he thinks we should do to get out of it.  When I see him wearing the hat of the active thinking political human being, he is punting for the next Democratic Party banana on top of that miserable pile.  He did it for Obama, he's done it for Hillary Clinton, and he is currently doing it for Joe Biden.  "Ah well," I surmised, "that's what rich and successful Americans with a conscience do, they take the path of lesser evil, the safe one, the non-threatening one.  Hopefully it doesn't fuck with his art."  It's a poor justification (on my behalf) and these sorts of excuses have a way of biting one on the ass.
Bruce Springsteen has always been in a conundrum with his fan base (mostly white).  There are followers who view "Born in the USA" as akin to a patriotic anthem or more currently a MAGA slogan.  There are others that understand it to be an anti-war song, which it is.  Here's a performer whose shows at Madison Garden in 2003 were picketed by the NYPD because the cops felt they were getting a raw deal in the song "American Skin (41 Shots)" about the Amadou Diallo police murder.  Chris Christie, the toady Republican of the George Washington Bridge lane closure fame and a Trump poodle and speechwriter, is an enormous Springsteen fan and cannot shut up about him.  And then there is the vast army of marginalized people who understand their plight, but might see their salvation through supporting a billionaire failed casino owner and real estate developer, as well as blaming their neighbors.  The "middle" definitely has a different connotation for Bruce Springsteen.  He has learned how to exploit it for maximum benefit.  But now is not the time to champion fence sitting.
Now is the time of Proud Boys, Patriot Prayer and long guns.  Now is the era of a vicious police force that, despite being under the world's microscope, seems unable to stop itself from committing savagery.  Now is the time of death and misery from COVID.  Now is no jobs, no money, no future, no help, and all of the bills that must be paid.  Now there is a new administration, one that will undoubtedly backpedal on all of their fancy promises and reinforce some of their not so fancy ones, like putting America back on center stage (what's good for US imperialism is bad news for a lot of others) and bringing back law and order (repression).  But now is also the period of fight back, with Black Lives Matter and the forces of the anti-police rebellion.  Above all, now is the time to choose a side.  Now is precisely when being in the middle is to be part of the problem.  Not doing anything now is an indirect endorsement of all of those who are doing awful things.  Now there is no promised land in the middle, no light at the end of the tunnel, even if that light is New Jersey.
I want Bruce Springsteen to step up.  Who is he with now and who is he against now?  I've paid my dues for him, bought all of the records, stood in line for the tickets that never materialized, been fucked over by Ticketmaster and the concert mafia, and defended him against the critics who wrote him off for being just another rock star.  Hell, I even read his autobiography, which I recommend.  He owes me, and all of the others who might listen to him for the right reasons, provided he has something of value to say.  The Jeepster Blues does not cut it.  Like Slim Pickens' hat, it doesn't fit.
***