Let's put this upfront and made clear, the Myanmar military junta is a murderous regime. It has seized control of the entire political apparatus, rounded up opposition politicians, and launched a war against everyday people around the country. Large scale assaults on students, unions and even medical workers are taking place. Entire cities are under siege. Homes are being raided, people are being shot dead in the streets, and thousands are disappearing into jails or who knows where. This military junta is the same that carried out pogroms against the Rohingya people over the last several years, with little to no comment by the world's powers. The Rohingya have now fled across the border into the sprawling Bangladeshi refugee camp, Coxs Bazar, which has experienced shortages of food, cramped living spaces and even mass fires escalating this human crisis of further displacement for an already displaced community. The situation is so terrible that the government of Bangladesh is taking Rohingya and putting them on an inescapable prison-like island in the Bay of Bengal.
Yet, despite this grim situation facing the whole of the Burmese peoples, the mass movements refuse to surrender to the junta.
What's my connection with Myanmar? Tangential, but kind of in the DNA. My ma's people are Micks. But we weren't raised your typical Irish American. Our eye wasn't to that Emerald Island across the pond but to a place even further in the distance and, to most people in the West, a place few had ever heard of till now. My grandfather and all his brothers were born in Yangon in the days when it was called Rangoon and when Myanmar was still under British imperialist occupation and control. My grandfather's family had fled the north of Ireland during the English created Great Famine – an Gorta Mor of the mid 1800s (the Black '47). They migrated to Montreal, then moved south and west till they ended up in what is now St Paul, MN. From there, they moved down the Mississippi to more southern hills and landscapes.
The family became teachers and doctors. My great-grandparents took the opportunity to move to then Burma to teach in the villages surrounding the seaport of Mawlamyine, the city where a young George Orwell, still a cog in the wheels of the last days of the then (thankfully) fracturing British Empire, worked as a cop till he got some sense and quit. Orwell too had maternal links to Burma and it's also where he would develop a lifelong hatred for imperialism and authority.
The village schools where my great-grandparents taught were mostly oriented to orphans, the poor and people who had leprosy.  My grandfather spent his early life running away from home and traveling in the forests and meeting folks from the countryside.  There were search parties organized to find him from time to time. His adventures also meant that he was often quarantined for being a carrier of all kinds of parasites and other nasties that anyone running around barefoot and living in wild conditions might pick up in the early 20th century.
As a teenager, my grandfather was sent to the U.S. to attend school and go on to college. He became a professor and noted linguist. He supported independence for Burma and India. As time went on into his teaching profession, he became a target of the House on Un-American Activities (HUAC) for communist sympathies. He and my grandmother already had four children.
Being an outspoken thinker and writer and as a target of HUAC, he found it difficult to hold down a job and was never able to secure tenure at any college or university. My grandmother would say that yes, he was harassed by the government, but the transient situation they often found themselves in was as much to do with his big mouth, which she loved him for and in the end was one of her biggest attractions towards him, regardless of the trouble it caused them.
Despite his early life as a noted college athlete, he suffered from untreated high blood pressure and under the stress of it all he had a fatal heart attack at the age of 46 years (my age now), leaving my grandmother widowed with four young daughters and no money, home or security.  My grandmother, a brilliant artist and thinker in her own right, kept on and made a good home for herself and her family (she would later get hired in '64 to work at the Detroit Institute of Art which exposed me into that world early on, thankfully).
The politics and culture of Myanmar was something we grew up with. It filtered down through several generations in both awareness and bits of culture, remembered and lived. Rather than green, our colors were saffron and red. With Myanmar in the news so that the world over can see the courage of the peoples' organizing and struggling for a popular solution to the junta's brutality and authoritarianism, now more than ever is the time to make connections, tell the stories of the land, and demonstrate solidarity however we can.
Here's to the peoples of Myanmar and to those Micks who never forgot it and hope to see it as a place of dignity, justice and freedom.
My grandfather is the only one not smiling and is about twelve years old in this picture.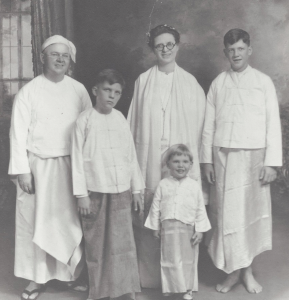 (Circa 1929)
***