For all that don't know, and most outside of the region (Detroit, southeast Michigan and mid-Michigan) don't know because the national media has had little to no coverage, we were hit really hard by a serious storm this past weekend with mass flooding, power outages and infrastructure destroyed.  It also included some tornadoes throughout mid Michigan all the way over to the eastern Lake Huron and down to Lake St Clair.
Freeways were under as much as 15 feet of water, and thousands were without electricity, sewage or clean water. Many people were forced to evacuate roads and freeways due to fast rising waters with an estimated thousand vehicles stranded and abandoned (the numbers could be higher given many haven't reported local neighborhood abandonments). Roads were filled with cars that were fully overtaken and submerged by the floods. Hospitals including Level One trauma centers were placed on critical standby (essentially closing to new patient intakes) due to them having become inundated with rain and made inaccessible to staff (coming or leaving) or ambulances unable to get through the flooded roads.
In addition, essential power and communications networks failed due to water and electrical damage. Neighborhoods and communities in Detroit and many of the cities and municipalities that make up Metro Detroit have been near devastated. The massive water pumping and treatment facilities around Detroit and the region look to have failed and now we are seeing local media investigating why the Great Lakes Water Authority (formerly the Detroit Water and Sewage Department and which was seized and restructured during the Detroit bankruptcy and emergency management period) failed at crucial moments in the flood.
Especially hard hit was Dearborn, which borders Detroit on its west side. Homes across the region had basement flooding, which even saw people trapped due to fast rising waters.  We are getting reports of some deaths due to people unable to escape basements. Beyond the mass property loss, a lot of homes have now been structurally compromised and will be in need of investment and repair, which many people just can't afford– especially the most vulnerable, marginalized and poor.
The trash along all streets in every neighborhood is so immense that waste collection agencies have told us that they are suspending normal trash pick up times leaving mounds of rotting, waterlogged and dangerous waste. We've also been suffering from high heat and humidity, which will only exacerbate the spread of toxic mold and pollution and, without proper water and electricity, will only deepen the crisis.
From Detroit to Flint to Saginaw to Lansing and the many communities everywhere around it's just the same old same old of marginalization, abuse and abandonment underpinned by white supremacy, segregation, and anti-poor, anti-working class policies and capitalist (dis)order.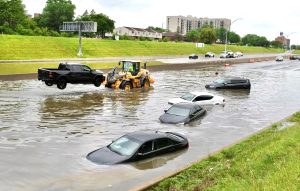 They used to talk about "100 year floods". Detroit has been having these hundred year floods every five or so years now but this may just be the worse yet. The Great Lakes are a massive water basin with its normal, natural flood plains. But this is new, this flooding is part of the global surge of capitalist created climate catastrophes. Detroit has long suffered the extremes of this capitalist devastation. As the city invested in entertainment districts, gentrification and catering to some new hip urban class, the city's and metro working class and poor districts have continued to lack resources, infrastructure upgrades or for many, the basics to have any kind of actually sustainable communities. These floods, or the potentials for them, were well known to the officials and experts. They just ignored the threats. How much worse will it be with the next flood?