"If there is an underlying oneness of all things, it does not matter where we begin, whether with stars, or laws of supply and demand, or frogs, or Napoleon Bonaparte. One measures a circle, beginning anywhere." –Charles Fort
Fort, chronicler of strange natural phenomena, proposed to begin with frogs, including those that purportedly fell from the sky on occasion. I propose, in the narrative that follows, to begin with a pair of shoes, and how they point to the need for a whole new social order.
A private health care company is harassing me, pestering me, attempting to wear me down, and compel me to accept from them a second pair of (almost) free expensive diabetic shoes. They refuse to give up. Much like the Blues Brothers, they are on a mission from God—their God, the God of money.
I was diagnosed with diabetes way back in the 1990s. I was severely disabled by a resulting stroke in 2008, at a time when I had no health insurance, despite being in a relatively well-paid profession as an attorney. I had been forced to drop my health insurance, provided by the Chicago Bar Association, when the monthly premium for family coverage went up in 2000 from $860 a month to almost $1,900 a month, which I couldn't afford.
Because of this, I was, at one point, unable to renew my prescriptions as I could not afford the doctor visits and expensive blood tests required to renew my prescriptions for diabetes and high blood pressure medications, let alone the medications themselves. I went off my meds, had the stroke, wound up in a wheelchair, ran up big medical bills, and ultimately lost my house and three flat apartment building, after paying 25 years on a 30-year mortgage, receiving a $550 check as my share of the sales proceeds.
But all of that is mere necessary background to the story that I want to tell.
I began receiving home health care services in 2013, after turning 65 and becoming eligible for Medicare. Such services have included doctors who come to the house, a nurse who changes bandages on my frequently infected legs because of a condition called lymphedema, a home health aide who helps me shower, and a physical therapist. Medicare paid for first a manual wheelchair, and then a motorized one after I experienced a series of falls.
An additional item Medicare will pay for is special diabetic shoes. A number of years ago, I received a pair. They were billed to Medicare at about $350. There was a $30 co-payment for me. They are terrific shoes. Fit well. They are well designed. They open up on the top with Velcro strips, making them relatively easy to get on and fasten even for a disabled person like myself who cannot bend down and has only one useable hand.
When I leave my apartment to go somewhere, a social event, a memorial meeting for a friend, or a medical necessity, I wear them. That has been about five times a year. I don't go out much. I can't walk much, except short distances with a cane, and it is easier to walk inside the house, without the shoes on. So, I don't wear them at home.
When January 1 rolled around after the year I received the shoes, the company that supplied them started a series of phone calls, informing me that I could now get a new pair of shoes, since it was a new year, mostly paid for by Medicare. I immediately informed them that I didn't need a new pair, as the ones I had were not worn down at all, having been worn on only a handful of occasions.
The calls continued, insisting on setting up an appointment to measure me for new shoes. When I continued to insist that I didn't need them, the answer was, "but they're free." When that didn't persuade me (and indeed there would, in truth be another $30 co-payment), the callers started telling me that I should take the shoes and if I didn't need them, just resell them on Amazon or eBay. Taking things not needed from Medicare and reselling them, in fact, is considered Medicare fraud by the authorities.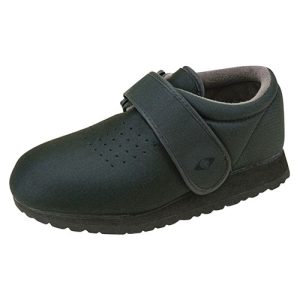 The supplying company, of course, doesn't care if I need the shoes. They just want their money, preferably for a new pair every year. At one point, one of their people arrived unannounced and unscheduled at my home, banging on the door and demanding to be admitted to arrange to provide me with new shoes, Apparently, he had some kind of quota of shoes to foist off on people, and I was making him look bad.
It has now been four years since I first got the shoes. They are still in great shape, and at this rate of use, should last a lifetime. But the phone calls insisting that I accept a new pair are now an annual ritual and continue for months. It is beyond a doubt that there is something beneficial about a government program that provides special shoes for people who need them. But there is something twisted, ugly, corrupt, and wasteful about how the profit motive results in unneeded and unwanted shoes being insistently pushed on those who are already well equipped.
What medical needs currently unfunded could be paid for with the resulting waste? We'll never know.
And the shoe example is doubtlessly the tip of the iceberg. There is even a company, Cash for Diabetics, on the Internet, whose entire business model consists of buying unused diabetes test strips from patients, many of whom received them paid for by Medicare or Medicaid, and them reselling them. This motivates diabetics who in fact do not test their blood sugar to obtain prescriptions for unneeded test strips to resell and motivates some who medically should be using the test strips to ignore their health and resell the strips to pay other bills.
Capitalism and the profit motive twists every beneficial program in this manner. It is beyond reform, beyond repair. It all has to go. The sooner the better.
"Put me out on the street,
Put me out, with no shoes on my feet,
But put me out, put out, put me out, of misery."
-Rolling Stones, Beast of Burden
*Bernard Farber (bernfarber@aol.com) is a soon to be retired disabled Chicago attorney, an activist for over 50 years, a former editor of the Chicago Seed underground newspaper in the 1970s, a former law school teacher, and frequently writes and publishes under the pen name Max G. Bernard. He also worked as a shoe worker in the 1970s and was a member of the United Shoe Workers Union.