Sunday's Super Bowl will mark the tenth time Tom Brady has played in American football's biggest game. I understand that people are tired of hearing about Tom Brady. For 20 years now, his name has been on the lips of sports fans, and not too long after his first Super Bowl victory, people who weren't sports fans were hearing about him, too.
Brady, an invited guest of Laura Bush at the State of the Union in 2004. Brady and his famous supermodel wife, Gisele Bündchen. Brady and Belichick. Brady hawking not 'regular guy' stuff like Wrangler jeans or insurance, but high end stuff like Aston Martin cars and Tag Heuer watches. Spygate. Deflategate. Brady and more Super Bowls—late-game wins and a few losses, too—as his Patriots became The Evil Sports Empire in many people's view. Brady, friend of Trump. Brady and his personal trainer. Brady and his signature TB12 lifestyle. And, finally, Brady leaving New England after 20 seasons to continue his playing career in Tampa Bay.
Early on in his career, some people tried to say Tom Brady was lucky, a guy filling in for an injured starter, in the right place at the right time. Some Raiders fans might even suggest that his whole career was founded on a bad call. Then, when people realized he was actually good, they still tried to say he was a product of his genius coach, Bill Belichick. Then, people tried to suggest the duo's combined success was due to their efforts at gaining a competitive advantage, through stretching loopholes or circumventing rules about filming other teams. Or the air pressure in their own team's footballs.
And then, on top of all that, it came out that the Patriots' triumvirate of Belichick, Brady and owner Robert Kraft were cheerleaders for the rise of Trump. Many people on the left, friends of mine, some of whom don't know a field goal from a flea flicker, know that Brady is bad, not someone to admire. A large portion of the country agrees. But not me. No one—not family or friends or comrades—expects me to admire Tom Brady's accomplishments. They think I should hate him like they do. But I think hating Tom Brady is a lazy, stupid pastime. I am here to perhaps help you enjoy this year's Super Bowl more, and hate Tom Brady a little less.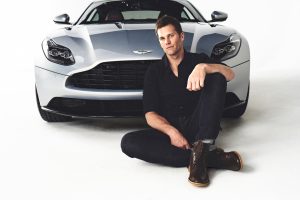 Here are some reasons to appreciate the Tampa Bay Buccaneers #12, beginning with a bit of debunking and ending with some solid sports- and life-based facts.
But isn't he a Trumper? Basketball great Charles Barkley once famously said, "I am not a role model." Whatever you may think of Barkley or that pronouncement, there is a good deal of truth here for adult sports fans: If we are looking to athletes or entertainers to guide us toward, or even agree with us on, a liberatory vision of the future, we have more problems than we think. Van Morrison and Eric Clapton recently came out with an anti-COVID lockdown song. Does this mean I will forego the whole catalog of Van's oeuvre or I won't appreciate the seven note beginning riff or the incredibly melancholic piano coda of Clapton's classic Layla? No! But, back to the subject, too many people, such as the Nation's sports columnist Dave Zirin, made far too much of Brady's association with Trump. Brady never endorsed Trump or carried any water for his campaign. He said they were friends. Curious? Sure. But who cares? Would I or should I think differently if he shilled for Hillary Clinton? No. Most importantly, no teammate of his has ever said Brady pushes politics or gets in the way of stands they might choose to make, unlike New Orleans Saints quarterback Drew Brees, who said this past summer he couldn't abide a teammate not standing for the national anthem.
But isn't he a cheater? In short, no. Brady's former coach Bill Belichick was held accountable for two incidents relating to "spying" on opposing teams, something that every team does to some degree but which Belichick deliberately pushes the boundaries on. As for the much-ballyhooed 'Deflategate' controversy? It's very likely that Brady made it known that he would be happy if a team employee let a little air out of the Patriots' footballs after they had been weighed by the league prior to the 2015 AFC championship game against the Indianapolis Colts. The weather was rainy and windy, and a little less air can make gripping the ball a bit easier, something to which, as a former quarterback, I can relate. But, if the PSI of the footballs is such a big deal, why would the NFL have allowed any time to tamper with the balls after they were checked by a league official? Why even allow a team to have their own footballs in the first place? Regardless, even if you're a stickler for the rules, is it really cheating if you look at the result? Most of the Brady naysayers and haters never bother. What happened in that game can only be described as a surgical annihilation of the Colts by Brady and his team: a 45-7 victory for the Patriots and another trip to the Super Bowl.
Now, enough of negating the bad. Let's look at a few reasons you might marvel at Brady's magnificence.
He's a good teammate. When the CBS broadcasters tried to keep the spotlight on him and ask him yet another question after the Buccaneers defeat of the Green Bay Packers in the NFC championship game on January 24, Brady deflected, suggesting that it wasn't about him. During a career in which you might expect a person to become a prima donna who sets himself apart from teammates, Brady has not done so. Yes, he has his personal trainer, but that caused problems with Belichick, not his teammates. You'll often see him head-butting and high-fiving with the offensive linemen who protect him after touchdowns, and, even as he's aged, developing important bonds with the much younger wide receivers, running backs and tight ends to whom he throws. He spent the early pandemic gathering his new teammates together–pushing NFL rules and state laws–to find timing and create chemistry. Although certain players, especially quarterbacks, are lavished with more attention, football is a team game. Brady gets that.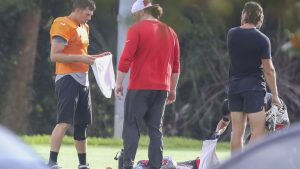 He is extremely driven to win. Given the perennial success of Brady's teams, this might seem obvious, but sometimes the obvious is lost on many. One of the many Super Bowls which leftists tried to politicize with a characteristic lack of nuance, Super Bowl LI, happened right after Trump was inaugurated and pitted the Patriots against the Atlanta Falcons. The prevailing wisdom called for the Left—which as a mass barely pays attention to football otherwise—to back the Atlanta Falcons over the Patriots because the Falcons represented a majority Black city and thus, somehow, all of the dreams and aspirations of the Black Freedom Movement, while the Patriots represented Trump and his racist, America-first ideology. Severely complicating that ridiculously simple narrative, Brady and his New England teammates (the majority of whom were Black) proceeded to embody one of the greatest aspects of sports—and, you might say, life—the quality of never giving up,  coming back from a 25-point deficit deep into the third quarter to defeat the Falcons in overtime.
Furthermore, I hesitate to say this because of the sickening dollar amounts we are talking about, but one of the least talked-about reasons that the Patriots were able to play at a high level year after year was that Brady never asked to be paid at even close to NFL market value for his services, which allowed the team to use valuable salary cap space to pay other high quality players. Sure, he's not even the biggest breadwinner in his household, so the money barely registers, but ego can get the best of some people—and get in the way of them having the most team success.
He's doing it for the old folks. Regardless of what you think of the NFL or the hegemonic nature of American football in general, for those of you who will at least peek at The Big Game™ on Sunday, one has to give some respect to a guy who just wants to keep on playing and who is doing it at a really high level. Brady is 43 years old and has been in the league for 21 seasons, and he brings the enthusiasm of a child and the commitment of a monk to his endeavors. If he were like an aging Babe Ruth hanging on to play with the Boston Braves or Willie Mays not a shell of his former self in the outfield in his years with the Mets, it would be one thing. You are not supposed to be able to play at such a high level for as long as Brady has, and most people don't even try. After last year, and even earlier for some (perhaps even his former coach, Belichick), there were people who questioned his continued ability to be an effective player at 40+ years old. But, after defeating two other future Hall of Fame quarterbacks in consecutive playoff games to help bring the perennially mediocre Tampa Bay Buccaneers to the brink of a championship, the questions should stop.
He was a sixth round draft pick and he'll never forget it. I'm not here to try to convince you of Brady's status as the greatest of all time; that kind of stuff is for sportswriters and sports bar pundits. But I do know that one of the reasons he is even in the conversation is because of how hard he has worked to become great at his craft. You might just assume he was simply endowed with prodigious physical gifts. To be sure, he has natural talent and aptitude. But, Brady was not the full-time starter on his college football team. He was selected in the sixth round, 199th overall, in the NFL draft after his senior year in 2000. His performance in tests at the pre-draft NFL combine (think meat market for football players) and a famous picture of him with his shirt off (because the combine is a literal meat market) became the stuff of legend because it was so pedestrian. As a prospect, he was an afterthought; there were zero expectations for Brady in the NFL. He, like the extraordinary Michael Jordan, who was famously cut from his high school basketball team, used all of the negative judgements of his ability as fuel for his white-hot competitive fire. It is safe to say at this point that Brady has reached Jordan's status in his respective sport, and on Sunday, he'll go for his 7th league championship, which would be one more than MJ had in his NBA career.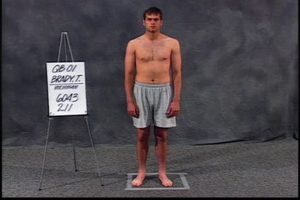 ***
I write this not because this is your last chance to see Brady in action. It sounds like he wants to keep playing beyond this Super Bowl. I write to convey that perhaps Brady has something to tell us about finding something we love to do, dedicating ourselves to it, fighting like hell to win, and trying to gain an edge wherever we can. And, not least of all, playing with both boundless joy and an enormous fucking chip on your shoulder.
Does that mean I am asking you to root for Brady and his Buccaneers on Sunday, or that I will be?
No, not necessarily. He is after all playing against the electrically talented Patrick Mahomes of Kansas City, whose greatness in his young career seems to have no ceiling and who also plays with enthusiasm and joy. I am rooting for a close game full of great plays and outstanding quarterback play by both Brady and Mahomes. Whoever has the ball last…