This is the second posting in Reproductive Freedom: A Series, launched earlier this week by Hard Crackers.
In this post, we share a collection of historical materials from the Redstockings Archives for Action. Redstockings was an active women's liberation group founded in the 1960s. The documents collected are drawn from materials related to a February 1969 New York State Joint Legislative Committee Hearing, which was disrupted by members of Redstockings, and the group's first Abortion Speak-Out held the following month. The selection includes:
a leaflet distributed by Redstockings at the hearing;
a list of the hearing's scheduled speakers;
newspaper reports of what happened published the next day; and
background quotes from activists and advocates on different occasions between 1968 and 1973. The background quotes were prepared for a 20th Anniversary Commemoration of the Abortion Speak-Out.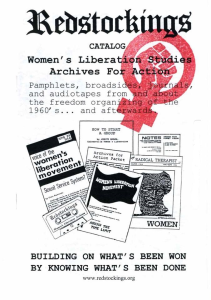 For more information on Redstockings and to view the complete Redstockings Archives for Action, visit the Redstockings website: https://www.redstockings.org.
We are grateful to the Redstockings Archives for Action for permission to publish these materials.