Varkie hailed from Kuruman, in the arid Great Karoo on the Ghaap Plateau.  Before he was drafted into the army, Varkie was hired by the South African Railways (SAR), the government owned institution that ensured employment security for members of the white working class, no matter how unproductive they were.  Varkie's official job description on the Railways was "Tapper/Shunter's Assistant."  In this capacity, he whacked the wheels of freight bogey-wagons with a spanner (wrench) in the stockyards, a kind of poor man's quality control inspector.  This is akin to kicking the tires of a car for phony assurance that the motor is running smoothly.
Varkie's dad was also employed by the SAR.  His pa was an indigent, uneducated white man, born into the far northern desert of the Cape Province, his only asset in this raw deal being the color of his skin.  Varkie followed in his footsteps, like father, like son.
This was then (1976).  English was not the language of the white people in Kuruman.  It was a Boer Afrikaans-speaking town with red corrugated tin roofs, hot as Hades during the day, frigid at night.  Barefoot kids ran about on the dusty streets.  A desperate African township was located beyond the outskirts, the source of cheap labor, a requisite for every white South African commercial enclave.  I would be rather surprised if it has changed much.
The only action in Kuruman in those days was the railhead link and the highway between Namibia and the South African cities and army bases, with military troop and supply trains and convoys of trucks rolling through at all hours of the day and night, testament to the industry of a racist war.
This is where Varkie came of age, a place of both stark desolate beauty and nothingness: a little bit of heaven and a whole lot of hell.  And then he came into my life.
In his nineteenth year, Varkie was yanked unceremoniously from his world in Kuruman and drafted into the South African Infantry in Ladysmith, Natal (now Kwa Zulu).  There, he was exposed to a different kind of misery outside of the dorp (village).  He didn't do too well.  I knew.  I bunked next to him.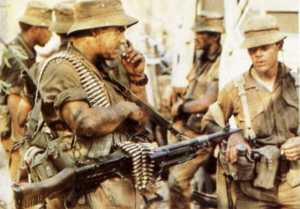 I came from the city and was a few years older than Varkie.  This gave me somewhat of a leg up.  But then everybody in the platoon had an advantage over Varkie.  He was illiterate, an assumed buffoon, the butt of the barracks' jokes, a victim of tiresome pranks, and at the mercy of vicious, sadistic non-com instructors.  "Kom hier, jou vokkin' vark!" (Come here, you fucking pig) was a familiar refrain of the bellowing sergeants and corporals.  Throughout basic training, Varkie cried himself to sleep many nights.  Despite his professed loyalty to the enforcers and their project, in his heart he was never one of them.
Varkie was indeed porcine in feature, being plug-ugly, which is how he earned his nickname.  He gave new meaning to the phrase, "With a face like yours, you would be safe in Portsmouth on pay night."  In any outfit, there is always a misfit, someone who is more cursed than even oneself.  In Alpha Company, 2nd Platoon of Number 5 South African Infantry Battalion in 1976, such a person was Varkie.  Although our lives were mutually awful, compared to mine his was Murder Incorporated.
Varkie became my friend then because we shared a mutual hatred of our wretched circumstance and we weren't very accomplished soldiers.  We both wanted to go home, him to Kuruman, me to Durban.  And so we had each other's backs.  We took our punishment for all sorts of misdemeanors together, and although there was little discussion thereafter, no blame was ever assigned, the camaraderie of the inmates at work.  It didn't matter.  We were in the same boat.
Because I had more exposure to books, music, films, and the classroom, etc., I became somewhat of a tutor to Varkie.  This wasn't a one-way street.  He had plenty to offer in the realm of conventional know-how and the ways to survive with not too much at one's disposal.  Varkie's universe knew nothing of typewriters, tape recorders or cameras.  I once found him hitting the button of my Polaroid with a broomstick, beaming at the gadget in the hope that it would belch out his image.  He became a Bob Dylan fan, preferring the electric numbers.  The songs reminded him of Boere musiek (Afrikaans country music).  Meanwhile, I learnt the mind-numbing quality of Klipdrif brandy (tough stuff) and warm Coke, country kindness, and that certain peculiar serenity that comes with simplicity and not having to babble on.
Six months later, we were many miles away in the Caprivi Strip together, fighting South Africa's dirty occupational counter-insurgency war in the north on the convergence of the Zambian, Angolan, Botswanan, Zimbabwean and Namibian borders, a few hundred clicks from the mighty Zambezi River and Victoria Falls.  Botswana's Chobe National Game Reserve isn't too far south, home to the most prolific elephant population in the world.  The Caprivi is rogue country and was used throughout that conflict by both liberation movement guerillas and the South African Defense Force as a corridor to other territories, either as a way in or a way out.  Cadres from SWAPO (the South West African Peoples Organization) were very active.  In military lingo, it was a hot spot.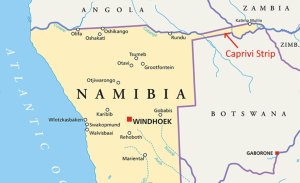 Up there, the army authorities strictly monitored and censored our mail, incoming and outgoing.  I wrote on behalf of Varkie to his ouma in Kuruman, State Side (slang for back home in South Africa).  He would tell me what to say.  I jotted the words down on paper and he would sign the letter in an awkward kindergarten script, "Jou liewe seuntjie, Jacobus" (Your loving boy, Jacobus – his real name).  As a reward, I got first dibs on his koeksusters (cook-sisters) from home, obscenely sweet Afrikaner pastries.
Then one morning, Varkie was gone.  His patrol that previous night had laid ambush in the no-man's land, a few hundred yards north of our base underground camp called Mpacha, thick with thorn-bush scrub, and as dark as the Black Hole of Calcutta.  Varkie had vacated his post to take a leak.  He returned from his ablution in the wrong direction, stumbling into the vector of the ambush without warning his fellow troops.  Perceived as an unidentified intruder and thus a "terrorist," he was cut in half by their automatic rifle and machine gun fire, rubbed out by his own men.  Varkie never made it back to Kuruman alive.  His tapping days were through.
Because our location and missions were secret, his folks in Kuruman would likely never be told of the true circumstances surrounding his death.  Instead of welcoming their son home, they would receive only a telegram and a medal for his contribution and sacrifice made on behalf of the security of the fatherland.  Varkie became another one of apartheid's wasted many.
That tragic day, the Major lectured us about vigilance and following strict training regimen.  He didn't mention Varkie by name, other than referring to the episode as a learning example, a mistake.  I wept for my friend.  At times, I still do.
***