Trousdale Turner Correctional Facility is leading the nation in the number of positive COVID-19 cases, an estimated total of 1,393. Trousdale is a private prison for men in Hartsville, Tennessee, about an hour drive from Nashville. The prison opened in 2016 on the site of a nuclear power plant and it holds about 2,500 men. The facility is run by CoreCivic, formerly the Corrections Corporations of America, the second largest for-profit company which manages prisons and immigrant detention centers. The Tennessee based corporation has been the subject of many exposes and lawsuits. In Tennessee alone, CoreCivic contracts a total of four private prisons including Trousdale Turner Correctional Facility. Like many prisons around the nation, the COVID-19 outbreak in Trousdale was initially ignored by the top officials in the DOC and the state's Health Department. Yet family members of incarcerated men have been relentless in their fight to get media coverage about the outbreak of COVID-19. They have forced the TDOC to roll out testing inside the facility in late April. We recently caught up with Susan, whose husband just returned home to East Tennessee from a sting at Trousdale Correctional Facility.
Can you tell us a little bit about yourself?
I don't know what to say about myself other than I live in Tennessee. But my name is Susan. The main reason I first became involved in what's happening inside of Trousdale was because my husband was incarcerated there from the end of January until about last week. When he could get in touch with me, he would tell me what was going during the COVID outbreak. I am also a part of a Facebook support group for the wives and girlfriends of men who are incarcerated in Trousdale. My husband was in Trousdale for a parole violation. I was very worried about him. The last time my husband was in prison was 10 years ago. He told me he had never seen anything like it.
How so?
It is barbaric and inhumane is the best way that I know how to explain it. Most of the time that he was there they were on lockdown and they couldn't use their phones and they were taking away their commissary, which was the only food they could eat. We have more than one person who can verify that they are served meat which comes out of boxes that say "its not fit for human consumption." A CO's wife has said that her husband was made to eat it and he got sick from it.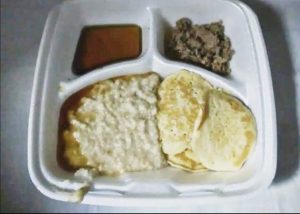 Food inside Trousdale before COVID-19
When my husband was sent to the hole, he heard the guy next to him being raped. A guard passed by and made a motion to my husband to not say a word about it.Prisoners inside also don't get any medical attention. There is an elderly man who was bleeding profusely and everyone was screaming for an ambulance and the guards did not do anything. They just left him on the floor bleeding. Trousdale is the most dangerous prison in Tennessee.
Prisoners inside don't get any medical attention. There is an elderly man who was bleeding profusely and everyone was screaming for an ambulance and the guards did not do anything. They just left him on the floor bleeding. My husband has seen people stabbed, people hanged in their cells, guards and prisoners are constantly beaten and raped.
The administration doesn't tell the families if their loved ones are in the hospital. I know one family who had a loved one on life-support. This was back when Washburn was the warden of Trousdale. The family was finally notified but they could only see him for an hour. And an hour after the family left the prison, he died. Normally you don't even get a visit, just a call from Nashville saying your family member has died. Trousdale is the most dangerous prison in Tennessee.
Trousdale is a private facility. Can you tell our readers why that is significant?
It's a for profit prison. So, for every inmate they have they get money. I don't know how else to describe it. If they were running an animal shelter, they would be hanged in front of the town square. Most of the men are incarcerated there for robbery, burglary or drug offenses. They are nonviolent crimes. You hear stuff all the time, like for instance there have been two stabbings this week and we haven't gotten confirmation. One was in the chest and another stabbed multiple times on the left arm. These kinds of things are normal inside Trousdale.
I have tried to get every Senator and Congressman to do something. No one is willing to help. And that's because so many of them take money from CoreCivic. Senator Marsha Blackburn and Governor Lee take campaign money from CoreCivic, and Tony Parker who is the TDOC commissioner, says that he is not responsible because it's a for profit prison. They will all lie to your face.
How did COVID-19 impact your husband when he was incarcerated there? What was it like in Trousdale at this time?  
When COVID started they cancelled visitation in mid-March. Bledsoe County Correctional Facility[1] knew in January about COVID but they wouldn't let staff wear masks because it covers too much of their face. Nothing was done at all to prevent the pandemic inside the Bledsoe prison unless they had over 600 inmates test positive for COVID-19. This is when we had someone inside Trousdale start raising hell about what was happening there too, and toward the end of April we were able to win and get them a mask and a bar of soap. They wouldn't even give them anything to clean with and my husband said that they never clean.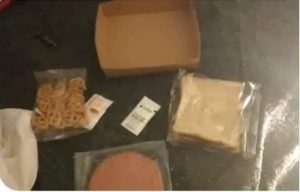 Pretzels to the left, bologna in the middle and bread on the right. Three meals a day during COVID-19
You mentioned that their commissary was taken away during the quarantine. Why?
The last letter I got from my husband, he told me that he traded everything he had to get some food. The thing is that if you talk to CoreCivic, they say that none of this is true. But the reality is that they didn't want to put on the hazmat suits to deliver the food. The first staff members that got Covid-19 worked in the kitchen. That's when they shut the kitchen and the inmates just got a piece of bologna and two pieces of bread with a pretzel or goldfish crackers. That's not even gonna feed a toddler, let alone a grown man.
Then they also started shutting the phones off. The phones were almost always off on the weekends. And then they started to cut them off in the afternoon, even though policy says they are supposed to be on until 9pm.
How did all of this make you feel?
You feel so helpless. You can't talk to them and they were holding the mail. They were afraid that COVID might be on the envelope. And when you do hear from them, they are starving. So, you put money in their commissary, but they don't get food. The guards will let them order the food, but they don't get it.
I feel as if we are locked up with them. We go through it too. You can't get any information on any of them. You might not hear from them in two-three days. They did one free call a week during the quarantine time. My husband would call every day when the phones were on. In the hole they get one phone call a month.
When did they start testing inside Trousdale?
Very late. They started testing on April 28 or April 29th, and they did it in two days. And that's when the numbers came out and it was 1300 at that time. They moved people around and they kept some positives together. But most of them were mixed in there, both negatives and positives. And they wouldn't even tell them. They put a red sticker on the door, so the guards knew who had COVID-19, but the inmates didn't. My husband said they were only quarantined for 14 days and then they let them lose and gave them jobs to do.
What about your husband? Did he get tested?
He tested positive but he was sick about two weeks before that. He couldn't breathe and he had to lay on side and then switch to the other. I told him not to take Ibuprofren. He's okay now. He is home. I'm so glad he is out. (crying).
I am sorry Susan. Do you need a moment?
(Sniffles) Last night I went to get him a chicken dinner with vegetables and he couldn't eat it fast enough. He is so skinny. He's an addict and needs to go to rehab. He doesn't need to be put in a horrible place where the guards provide the drugs. I know people that are locked up for stealing a car or violating parole and they don't deserve it. They are being sentenced to die there. So far, four people have died. Tony Parker made a statement and said that they were doing autopsies and he called it overdoses, but I know it's COVID. One lady's nephew died back in April, and the family was told he overdosed. And the autopsy showed that there were no drugs in his system, but he had COVID.
What has been the response by state officials to the pressure by families and the media?
The governor has tried to cover up the whole COVID thing. There was a press conference and where they asked Dr. Lisa Piercey, the head of the TN Health Department, about COVID-19 she said she wasn't going to test the inmates at all until they were asymptomatic, even after Bledsoe numbers were released. We finally raised hell and got Trousdale tested, and they found out 1300 people positive. When the reporter asked her if she thought the TN Dept of correction had done anything wrong she said "no."
Well they weren't allowed masks and they weren't given hand sanitizers. You can't social distance in any normal prison, let alone in Trousdale where it's open pods like a college dorm-room. The ones that are in cells the rooms don't lock. There are people running around all the time. My husband had to run an errand and he hasn't told me a lot because he knows how upset I get.

128 people live in this small area in Whiskey Unit at Trousdale Turner Correctional Facility
Something has to be done. None of them were sentenced to be treated worse than a stray animal. I think if we had not raised hell, and I don't mean to cuss, they wouldn't have done nothing.
So, how did you go about organizing against these conditions?
I got a lot of contact information from the Trousdale Close It Down Page on Facebook. When he got there, and I heard that there is a support group in that page, I was in touch with other women who had people incarcerated in Trousdale. I was also emailing the governor and state legislators but none of them cared. The Governor and the senators all get money from CoreCivic.
TDOC blocked me from their Facebook page and so did CoreCivic. I spoke out and I sent an email to CoreCivic and Trousdale and to local politicians. When they weren't responding, I then decided to go to the media. I went to Johnson City Press and now there is an even an article about Trousdale in the Washington Post.
The day they threw my husband in the hole, I had sent an email about the 1300 positive inmates, and I copied the news media and legislators. And two hours later he was in the hole, and he was there for the last month before he was released. And they let him call me only three times.
So, you think it was a retaliation?
Yes, because Corecivic is very vindictive. So many of the families are afraid to speak out. We had a protest recently and many of the families didn't come out because they are afraid of what CoreCivic may do to their loved ones inside Trousdale.
CoreCivic is not reporting what's happening inside. We know from families that have people incarcerated in Trousdale that there has been 4 COVID related deaths, and they are trying to cover it up. They are saying it was overdoses or pre-existing conditions.  But there's been no visitation since middle March, so how are the drugs getting in?
That's a good question, how do you think they are getting in?  
That's the question I asked Mr. Jones at the TDOC. He turned the question around on me. I said they are coming from the guards. He agreed and said "well, we can't strip search them."
When my husband was inside, he saw a female guard and when she took out her packed lunch, she dropped it. And when she went to lean in to pick it up about five pounds of marijuana fell out of her shirt. They fired 2 female guards over drugs, but they didn't charge them with anything, and they hired them right back. The drugs inside Trousdale are laced with wasp spray and fentanyl. We have heard story after story about the inmates begging for help with addiction. There's even heroin in there.
Drugs are used to keep them high all day. My husband knew one guy that overdosed, and they had to bring him back to life three times.
Have you been in touch with any of the guards or their families? I imagine they must also be worried about contracting COVID-19.
I am only in touch with one woman whose husband is a guard at Bledsoe. It's been difficult to get the Trousdale guards on our side. They would post stuff on Facebook and when families try to ask about what's going on, they would deny everything. Before I got blocked from the Facebook page, I was able to comment on the guard's pictures. But if a guard posted anything about the outbreak they were just reprimanded, and the comment was removed. It's crazy.
What about other families of incarcerated men?
The loved ones are terrified. I was on a call with a group of us trying to make some changes. Her husband called in and we got to hear what he said. He talked about the drug use and how you can't sleep because everyone is up all the time and high, and if you are not in a gang you get robbed, stabbed and beaten. There are a lot of old guys that are veterans in there and they are getting their asses beat for saying the wrong word or looking the wrong way at somebody.
Do you think seeing your husband go through all of this has changed your view of the criminal justice system?
Oh yes. I was a criminal justice minor in college. I am pro-death penalty, but I had no idea because I have never been through it. I don't know that all prisons are the same. Yesterday, he had a nightmare and it was horrible. He thought he was being attacked. Incarcerated people can't protect themselves from anything. They are degraded, dehumanized and they are treated worse than a animals. Their families are not treated any better.
What else do you want our readers to know?
I want them to know that just because someone made a mistake, it doesn't define who they are. At the end of the day, they are human beings with family and children. The whole thing needs to be rethought. Drug offenders need programs not jail, and definitely not Trousdale.
When you send a drug addict to Trousdale, you are sending them to candy land. There are more drugs inside Trousdale than there out in the street. Most of the men inside are non-violent offenders. A lot of them could have been released to a halfway house or their home with an ankle bracelet. But Tony Parker would not hear of it.
What do you think has been the biggest lesson you have learned from you and your husband's experiences?
That you have to fight to draw attention to how bad it is. I will continue to fight until something is done like that place is closed down. Incarcerated people need a voice and so many of the families are afraid to be the voice. I have a very close friend who is dying from cancer and her son is in Trousdale. She doesn't know if she will be alive by the time he gets out. We have to keep fighting.
[1] Located on top of the Cumberland Plateau in Southeast Tennessee, Trousdale was initially one of the largest COVID clusters in the US with almost 600 positive cases.