Repressive societies, like those ruled by regimes that rely on heavy policing to enforce state policy, have a way of creating unique situations and throwing up special characters. Often, the most interesting people are those who know how to navigate skating the edge, and who comprehend the perils involved for many concerned. They might have to live a duplicitous kind of Jekyll and Hyde existence, but they understand the human condition better than most. They get the rebellious attitudes thing, whether these sentiments are conscious or an intuitive response to the prevailing conditions. They usually come from the downtrodden class, so there is no gigantic leap required to figure out what it is, who belongs to it, and where it is going. This article is about one such individual. His name was Billy Monk. And it's also about the world that he frequented.
Billy Monk grew up as a white teenage delinquent in 1950's South Africa, the era of apartheid. In his late teens, he was already familiar with South African prisons. He did two years in the big house for safecracking (a department store vault). He was a dagga (pot) smuggler, shipping the weed from the rural Transkei on the wild coast to the South African cities. He was a brawler and had the mug to testify to that, broken nose and all. He was also a notorious womanizer. In the late 1960s, he was employed as a bouncer at a dockside club and bar called the Catacombs on Loop Street in the Atlantic port city of Cape Town. Apparently he wasn't very capable muscle material. He didn't have the necessary belligerent attitude and treated the patrons with too much respect. But it was at the Catacombs that he became the unofficial club photographer, mainly taking shots of customers and selling the pix back to them.
I have some familiarity with Catacombs type venues. I grew up in Durban, a large port city on the east coast of the Indian Ocean. The Point Road area was near the docks. This was poor whites' territory, with Portuguese owned grocery stores, cheap cafes and take-outs, bootleg liquor stores, and seedy apartment buildings. After-hours clubs catered to the sailors and those Durbanites willing to risk them.  Many of the international seamen did not fit the official category of "white people."  They were hesitant to roam too far into the city for fear of being busted for being in a segregated whites only zone. The infamous Durban dockside den on Point Road was the Smugglers' Inn. The Smugglers' Inn violated every conceivable South African morals code and, believe me, there were a ton of these laws. The club was multi-racial, sold liquor into the wee small hours, peddled dope, and served as a strip bar and sex industry center. The Vice and Racket Squad regularly raided it. This was like those old prohibition-era gangster movies where the entire clientele would be hauled off in Black Marias after the cops stormed the speakeasy, a la "The Night They Raided Minsky's."  It was a dangerous hangout for obvious reasons. "Guns or knives, Butch?" was a common refrain at the Smugglers' Inn.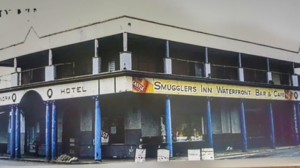 In 1974, I spent a brief time on South African coastal merchant ships. Our ports of call were from Durban to East London, to Port Elizabeth and finally to Cape Town, and then back again. Our crew, not always all white, drank shore side in joints like the Catacombs and the Smugglers' Inn. War ships from foreign navies often docked at these ports and the visiting seamen added another dimension to the threat of violence. Loaded British sailors and marines were a handful. They were spoiling for trouble. We always drank together for protection.
So that was Billy Monk's universe. At the Catacombs, he used a 35mm Pentax camera with a particular Ilford black and white film, one that captured the dark corners of the club and the faces of the crocked clientele in sharp contrast. See this collection for a sample of his work then. A word on the customers…some were patrons because they were regulars, signed-up, dues-paying members of the low-life community…others were itinerants, like sailors…and many were trying to escape the confines of surveillance, gay men and women, users, multi-racial couples, and those who sought to drink from dusk to dawn without last call, outcasts one and all. Embracing illegality might have been the one unifying feature of the full house.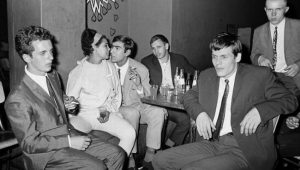 Billy Monk gave up the gig at the Catacombs and went back to his life as a fixer. He dove for diamonds at Port Nolloth, off the coast of Namaqualand in the Northern Cape. Improbably, he was a Woolworths store model. He ran various retail outfits, a shoe shop, a vegetarian restaurant. The years passed. In the late 70s, another professional photographer discovered negatives and prints of Billy's work at the Catacombs. Through a network of artist types and friends, an exhibition was set up at a fancy gallery in Joburg. Billy felt quite chuffed and was planning to attend it. He stopped off in Cape Town from Post Nolloth en route to the art show. There, he got into a skirmish with some cronies over moving lifted furniture and he was shot dead. This was July 31, 1982. His final words were, "Now you've gone 'n killed me."
Billy Monk was buried at sea in a gale off the coast of Cape Town from a small ferryboat. Mourners included hustlers, pimps, hookers, ex-cons, a host of former women lovers, burlesque gals, nightclub crooners, and surviving regulars from the Catacomb days. Later on, long after his untimely death, his photo work was given its proper due. The London Guardian wrote him up, coffee table books were produced, shows were exhibited not just in South Africa but all across the world. His is the classic tale of the person who had to die before he got any recognition.
Like The Naked City, this is one of eight million stories. For every Billy Monk, there are untold others who never get noticed. I think there's something terribly wrong with this picture. On our quest for creating the new and better society, we should seek to remember as many as we can of those forgotten others. For our world would be more of an ordinary place without these characters. We cannot all be leaders, orators, scribes and noble sorts, etc. There are plenty of spots at the table and everyone should be welcome, provided they earned it and didn't run over others to get there.
I have a copy of the Billy Monk folio book about his photography in the Catacombs. One of the authors uses a quote from Anton Chekhov, "If you are going to produce a gun in the first act, you have to use it in the third." Enough said. Check it out.