Let's just get this out of the way first: Rob Manfred is a weasel.
In case you don't know, Manfred is the commissioner of Major League Baseball, and, while you would think a love or even enjoyment of the game would be a prerequisite for the job, one can only conclude that he hates baseball.
Now, maybe you hate baseball, too. You never got into it. It was boring. You were stashed in right field your one year in Little League and you decided you would rather do literally anything else than play in or watch a baseball game.
That's fine. I don't have that opinion, but I can understand and respect that the one sport with no clock was not for you (more on that in a minute). Maybe this piece isn't for you. Maybe.
But regardless of how you feel about baseball, you can at least agree that probably the commissioner of baseball should like baseball, probably he shouldn't denigrate the game's history and awards, and probably he shouldn't express open disdain for its fans. Yet that's precisely what Manfred does, and he is expected to be voted on soon to remain commissioner.
And who is this voting body? Is it made up of players, managers and fans of the game? Do the people decide who presides over the former "national pastime" and brings down a cool $17.5 million in the process?
No, silly, it's a body of essentially 30 men: the MLB owners. And those 30 men don't care if Manfred loves the game or hates its fans, they only care that he is doing what he can to help make them more money. He is their commissioner.
Now, much of what  I have written so far might well have been written by any number of sports writers who cover the game. They see his eye rolls and facial expressions. They hear the tone-deaf things he says, such as, in the wake of a well-publicized cheating scandal involving the Houston Astros, calling the World Series trophy "a piece of metal."
Many of these writers have even sided with the city of Oakland and A's fans and against Manfred's coddling of the A's owner, John Fisher, heir of the couple who founded The Gap. Bay Area folks can surely speak with more eloquence and knowledge than I, a Jersey guy, but let's just say it: Despite getting rid of popular players and rarely trying to field a competitive team, Fisher wanted the city to fund a new ballpark and money-making scheme for him. When faced with any resistance, he decided to ditch the Bay and is now planning to take "his team" to Las Vegas. Manfred is completely on board with whatever the fuck his rich owner wants to do.
While the commissioner of baseball somehow seems able to reach ever greater depths in his contempt for the game and its fans, he may have reached his nadir earlier this season after Oakland baseball fans staged a rather successful "reverse boycott." Eager to show that they do indeed care about baseball, their team and their city, and that they can fill a stadium, nearly 28,000 fans attended the A's June 13 game against the Tampa Bay Rays, a large contingent of them wearing shirts emblazoned with the word SELL, an exhortation to Fisher. The fans deliberately chose the date, a Tuesday evening, to coincide with the start of the MLB owner's meetings.
And what did Manfred say the next day when asked about the awesome demonstration of the fans'power the night before? "It was great," Manfred said of the reverse boycott. "It's great to see what is, this year, almost an average Major League Baseball crowd in the facility for one night. That's a great thing."
The completely amazing thing about such a snide, contemptuous remark in which Manfred didn't even attempt to acknowledge the emotions of the common people is that the proposed stadium in Las Vegas that Fisher is planning to leave Oakland for will have a capacity of 30,000. Which will be 4,000 fewer than the current major league ballpark with the smallest capacity.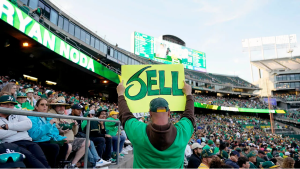 Now you see what I'm saying about Manfred being a weasel. But, honestly, I have more beef with Manfred, and it's for something for which he has received near-universal praise from many sportswriters. And this might be where I lose the rest of you (all two of you, ha ha), too.
For this year, Major League Baseball has implemented a pitch clock (and other rules changes) in order to try to speed up the game. Other than a between innings clock, which is when the teams switch who's up to bat and who's in the field, this is the first game clock ever introduced in Major League Baseball.
The new system implements a 30-second timer between batters, a 15-second timer for the pitcher with empty bases, and a 20-second timer for the pitcher when runners are on base.
If a batter is not in the batter's box within eight seconds between batters, it is deemed a clock violation, and the batter is charged with a strike. Similarly, if a pitcher fails to start his motion to throw the ball within his time frame, he is charged with a ball in the pitch count.
The main aim of introducing the pitch clock is to increase the action and pace of the game. Indeed, to date, this year's games are averaging a duration of 2 hours, 38 minutes, whereas last year games lasted more than three hours on average.
So, there you go: Rob Manfred has solved the "problem" of the interminable baseball game. And, as some writers like to point out, in October, come playoff time, games might now end at a "reasonable hour" and maybe kids will be able to watch and still be rested for school, and adults productive at their jobs. Nice work, Rob! (Try not to be such an asshole most of the time, ok?)
Except I don't like it. Sorry. And if you like baseball (or even just have an appreciation for history) and/or hate capitalism, you shouldn't either.
Yes, I am aware that baseball operations departments have become much more analytically driven in the past 20 years. Moneyball (2003), the book by Michael Lewis made into a movie with Brad Pitt as Billy Beane, general manager of, ironically, those small-market Oakland A's, shows the dawn of the analytics age. Everything has gotten more hyper-data-driven since then, with parlance such as "launch angle," "spin rate," and "exit velocity" dominating baseball discussion. And the hegemony of analytics has resulted in less "action" and longer games.
But, let's be honest: baseball is not, and never has been, a fast game. (Flashback to you in right field, age 8, picking dandelions, wondering when it will be over and you could get a snow cone.) Fundamentally, it is a battle between the pitcher/catcher unit and the batter. The comparison of baseball to "a chess match"—whether describing the pitcher vs. batter duel or manager vs. manager—is much more apt in baseball than any other sport. Like chess, baseball is decidedly not fast. Until it is. That is, when the ball is put in play.
With the emphasis on launch angles and the like, which has resulted in more home runs and strikeouts than ever before, the chaos and "action" of baseball has been slightly muted in recent years. However, there was no reason to believe that, over time, the over-emphasis on certain numbers would not have been internally regulated, be it by the players or managers or fans or even by some new numbers crunchers who see the game in a completely different way than what is de rigueur today.
Isn't the greatest star in the game, Shohei Ohtani, evidence of such a possibility? After all, if analytics truly ruled everything, wouldn't major league baseball have put him in a box for good long ago? These days, you're either a batter or a pitcher. You can't be both! Unless your talents are so extraordinary, like Ohtani or, long ago, Babe Ruth. Seriously, if Oakland A's fans had a dollar for every time Ohtani, of their downstate rival L.A. Angels, has been called a "unicorn" to show how special he is, A's fans might be able to buy the team from John Fisher.
In any case, a 'unicorn' like Ohtani could perhaps use 'magic' or, more likely, his example, to shift the game, but you cannot, Mr. Manfred, you should not, make the game faster by fiat. You can't introduce a clock to the one team game that was not timed without, over time, fundamentally changing the game.
If you think my crankiness about the introduction of a pitch clock in baseball might make me seem like a conservative, yearning for the ill-defined good old days, well, I present George Will, the longtime columnist and former Reagan debate coach, who has also written extensively about baseball over the years: he called the pitch clock an unqualified success and wrote, a month into this season, that it was "time to rejoice."
It is not "time to rejoice." To be clear, I'm not a proponent of the home run/strikeout dichotomy of modern times, though I'm not sure I'm with Kevin Costner's Crash Davis in Bull Durham, who hilariously railed against strikeouts, calling them "fascist." I am also not pro-long games, per se. I am just against the pitch clock. In the jeremiads against modern baseball that have led to Manfred's pitch clock, one of the most frequently invoked images was of a batter stepping out of the batter's box to adjust his batting gloves. After every pitch. And while I understand the complaint, it also must be understood that baseball is quite different than other hyper-kinetic sports. The batter is trying to achieve something terribly difficult to do. The glory–dare I say the poetry–of baseball is not only in the sheer excitement of a bases-clearing double or the perpetual, epic challenge of the pitcher's each offering to a batter, but also in all the spaces between those moments.
Putting time into the national pastime is not Rob Manfred's saving grace. To me, it only further shows how much he hates the game. It might also show how much he hates you, our agrarian past (and future?), and loves capitalism. Fast forward to October: 'Hmm, that playoff game felt way less dramatic than those of the past, like that one just last year when Bryce Harper took Robert Suarez deep to win the National League Championship Series, but, hey, it ended in 2:37 and at least I'll be ready and rested to make the boss money tomorrow! That Rob Manfred seems like a dick, but he's also the genius who saved baseball!'
I might be just a crank. And that's fine with me.
Down with Rob Manfred! Abolish the pitch (and time) clock! Up with baseball! Keep the A's in Oakland!