"Rugby is a wonderful show: dance, opera and, suddenly, the blood of a killing."
Richard Burton – Welsh actor
There's this old gag. Elvis Presley, James Brown and Tom Jones go fishing together in a small boat on the ocean.  The craft gets capsized and they are all swallowed up by a gigantic whale. Deep in the belly of the leviathan, Elvis, being a man of the faith, kneels and prays. He is joined by James Brown, a true practicing Baptist. Tom Jones meanwhile breaks into song, hip swivels, and belts out "It's Not Unusual." The two others stare at him in disbelief and ask what the fuck he thinks he's doing. Tom Jones answers, "It's quite simple…we always sing in Wales."
Something else they also always do in Wales is play and support the sport of rugby. It takes on religious overtones there. Rugby is a brutal and violent game. It's like American football without the pads, helmets and commercial time-outs. Oscar Wilde once said, "Rugby is a good reason for keeping thirty bullies from the center of the city."
I can claim some right to carry on here. Both of my parents, my mother Leah and my dad Merlin (Mogs), were born and grew up in Cardiff, Wales. Mogs contracted rheumatic fever, a somewhat deadly illness, whilst in the British Army in the North African desert during World War II. He was hospitalized in Durban, South Africa for the remainder of the war, it took him that long to recover and to learn to walk again. Once that particular shooting match was over, Leah came out to join him and they got spliced. That's how my two older sisters and I became South Africans, otherwise we would have been Welsh. Rugby is an enormous deal in South Africa, especially amongst the Boers, although that is changing (see Siya Kolisi, the current Springboks' captain). Even if I wanted to avoid rugby, I couldn't, and my roots essentially disallowed it.
What follows are some tales of rugby in Wales and its ripple effect. The sport there is not just a nationalist exercise, which isn't altogether reactionary, but it has managed to bury itself deep into the Welsh psyche. Villages and towns throughout the valleys, wrecked by the loss of the coal mining industry long ago, pride themselves on their rugby prowess and tradition. In the last hundred years, smaller Welsh town rugby clubs like Llanelli, Pontypridd, Aberavon, Neath and Pontypool, along with their bigger neighboring cousins Cardiff, Swansea and Newport, have on occasion taken down behemoth international visiting teams (England, Scotland, Ireland, the South African Springboks, the French Tricolors, the New Zealand All Blacks and the Australian Wallabies). This is akin on paper to Bognor Regis F.C. beating Arsenal or Liverpool in the other football. Local Welsh rugby clubs have become the community glue when little else holds things together. It's a strange phenomenon, but it speaks to the will of people to soldier on, despite crippling conditions, no trivial matter. These stories are humorous, sad, and maybe inspiring.
This last Xmas, I was gifted a folio book about South Wales called Skull Orchard (2010). It's written by Jon Langford along with his brothers, David and Dennis (the photographer). Jon Langford was a founding member of The Mekons in 1977, an infamous Leeds based art punk band that still has some legs and has produced some legendary albums (So Good It Hurts, The Mekons Rock 'n Roll, Honky Tonkin', etc.). He was born and came of age in the seaport town of Newport, Wales. Jon now lives in Chicago, and continues his musical odyssey, fathering bands such as The Waco Brothers and The Pine Valley Cosmonauts. He is also a poet, painter, visual artist and graphic designer. He has a wicked sense of humor. In a nutshell, Jon Langford is one interesting creative cat. I have no shame using his book as one of my reference points. I hope he doesn't mind.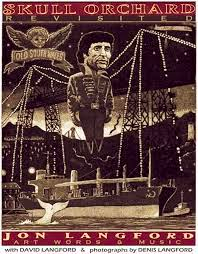 Langford writes in his introduction to Skull Orchard: "In South Wales, Margaret Thatcher organized and executed her own natural disaster; the mines are gone, the unions smashed, tips grassed over, a way of living lost forever, deliberately obliterated. So, who holds what's left together? In New Orleans, it was always the social clubs, in a battered Welsh mining village, of course, it's the rugby club. Raise your glasses to the History Committee of the Garndiffaith RFC! At least someone is doing something with care and patience and dignity. Let the record state: I have a lot of time for old Welshmen in rugby-club ties."
When Mogs decided to stay in South Africa and helped raise a family there, he brought with him his own passion for Welsh rugby. The touring British team then is still called the British Lions. The Lions are comprised of the best players from England, Scotland, Ireland and Wales, hand-picked to represent the cream of their crop, the so-called United Kingdom. In the late 60s and early 70s, Wales dominated the Lions line-up, with bruising forwards and jackknife quick backs and kickers. This was the era of Gareth Edwards, the magician of a Welsh scrumhalf, and Barry John, the Welsh wizard of a flyhalf. These are two important positions in rugby, they are responsible for the link between the forwards and the backs. Often these players determine the direction of play and have a big hand in implementing the game plan, a bit like quarterbacks and wide receivers or running backs in the NFL. The Lions team then was dotted with numerous Williams, Davies, a couple of Morgans, a Llewellyn or two, almost the entire Welsh telephone directory. It is said if you remove those and a few other surnames from that telephone book, it would become the thinnest book in the world (along with "What I Wouldn't Do for Money" by Donald Trump).
When the Lions came to play in South Africa, they really came to play…for two months at the minimum. The tour would include at least four international test matches and games against all of the provincial teams, pitting the Lions against hirsute muscular monsters with first names like Stoffel, Mannetjies, Dawie, and Theuns, mostly South African cops or army men. To Mogs's credit, he would always drape the Welsh red dragon flag over our apartment balcony on the day of a key encounter. This was no small act of heresy. The Boers took all of this shit very seriously. It worried my mum a tad.
Mogs was an ardent Max Boyce fan. Max Boyce is a Welsh comedian and singer. His whole shtick revolves around Welsh rugby, and he is known throughout the country as the national team's longtime major rabblerouser, cheerleader and vocal troubadour. He leads the faithful in song at the stadiums, usually with the anthem We Were Singing Hymns and Arias (see https://www.youtube.com/watch?v=O-EKY7z_jeE). When Mogs came home from work with a new Max Boyce record, it would immediately be played over and over on the Pilot radiogram. Max Boyce was quite irreverent towards the opposition, especially the English. In what might be described today as extreme political behavior, he would encourage the loyal Welsh following to paint English-speaking fans' cars the color of green. British racing green had long been associated with English racing cars. A favorite Max Boyce ditty was one entitled The Outside-Half Factory. The outside-half plays the flyhalf position. Here are some lyrics:
I'll tell you all a story,

'tis a strange and weird tale:

Of a factory in my valley,

not fed by road and rail.

It's built beneath the mountain,

Beneath the coal and clay.

It's where we make the outside-halves,

that'll play for Wales one day.
Later on in the song, Max Boyce lets the listeners know that his dad works down in the "arms and legs department" of the same factory. It's a fairy tale, and Wales is known for those, like Under Milk Wood by Dylan Thomas, which tells about the inhabitants of a small fictional fishing village Llareggub (bugger-all spelled backwards). Fantasy and mythology are a large part of the Welsh rugby saga.
Now, Welsh rugby is back in the headlines. For decades, the 1968 hit song Delilah by Tom Jones has been sung by the crowd before an international match in Wales and at halftime. It has recently been banned by the Welsh Rugby Union. Pressure has come from police chiefs and prominent politicians, namely Chris Bryant, the Labor MP for Rhondda and the shadow leader of the House of Commons. Their rationale is that the song promotes domestic violence. That's like saying that listening to Burnin' and Lootin' by Bob Marley and the Wailers encourages arsonists alone, or Bang, Bang, My Baby Shot Me Down by Sonny and Cher pushes people to commit murder with a pistol, all of this in downtown Aberystwyth. No doubt, domestic violence is on the increase and Wales is no exception. Instead of asking themselves "Why, why, why Delilah?" these supposed leaders are at a loss for coming up with any meaningful solutions. It's hard to imagine that thousands of male Welsh rugby fans rush home to beat up their wives after giving voice to Delilah, but there you go. Ultimately, it's an insult to Welsh rugby followers, most of whom can differentiate between the imaginary lyrics of a song and real life. Good luck to the powers that be who want to stop people from singing Delilah when the crowd is midway through the second verse in full throat. More drama about Welsh rugby, the 2023 version.
Back to the actor Richard Burton, a good place to end. When he was already famous and the subject of endless tabloid banners (the Elizabeth Taylor business), Richard Burton visited his dad, who was decidedly nonplussed by his son's fame. The Burton father was a coal miner and hailed from the town of Pontrhydyfen, Glamorgan. At the time of this particular visit by his son, he still resided there. "So," he said to Richard, "I see that you are quite famous doing what you do. Just what is it again that you actually do?" That's how the story goes. If Richard Burton had been a member of the Welsh international rugby team, his father would have had no need to ask that question. In Wales, some things are more important and memorable than others.
Postscript: The current Welsh rugby team is on hard times and is getting beaten in the ongoing Six Nations tournament. This doesn't change anything from what I have said previously. It is a temporary setback, a valley in a sport full of peaks and valleys. Max Boyce will back me up on this. One of the records we also used to play on the Pilot Radiogram was Under Milk Wood, narrated by none other than a young Richard Burton.