I have not been alive, until now, for an invasion of a country in which I personally know dozens of people. I didn't work or live in Ukraine as an adult; my relation to it resembles that of a diaspora member, but I was born there, and my family's kin network helped raise me in it, until my parents excised themselves and their children out, for a better shot at climbing the global class ladder in the US. Collectively, we have failed at the latter and are stuck here, unable to help the people we left behind.
Of course, we are not the only immigrants who haven't succeeded in eking out a place for ourselves under the imperialist sun; scores of us settle for merely making a living under a more agreeable set of living conditions, courtesy too, of residing on this side of empire's borders. It is other such immigrants, inhabiting the world and relating to it from a position similar to my own, that I sought out, to try and make a little more sense of the invasion, by talking to them about it. I wondered, in other words, if the war that we are physically unharmed by makes it more difficult for us to make a living. I figured some Ukrainians here in New York would be willing to speak about it; so far, in a week, I have found five.
Eleven is a colleague of mine at the grocery store. His real name isn't Eleven; he chose the nickname to differentiate himself from the other crew member he shares his name with. Eleven doesn't need a nickname to stand out; his hair is cut in the Ukrainian oseledets' style, an alternatively whip- or sail-like mohawk, and his mannerisms can reliably be described as eccentric. He is a theoretically oriented hybrid visual artist, with thousands of followers on the ELLO platform. At work, he refuses to collect customers' empty baskets separately from the carts, as we are trained to do, choosing instead to roll a single cart around the registers to place the baskets in, before dumping them by the entrance rather than in the space we designate for the baskets by the exit. He simply finds this way of assisting the cashiers more effective; I agree, though I am too lazy to take up a new method. I would hesitate to categorize his accent into any existing grouping; my first guess about it, before knowing he was Ukrainian, was a hesitant "… Dutch?"
He has, much like I do, a passive relation to Ukrainian identity. Like me, he had no choice in leaving his city at 10 years old – Kyiv for me, for him Dnipro – behind an aspiring petite bourgeois family with the means to move abroad. (US for me, Sweden for him.) Like many children of such families, he seems to have imbibed the familiar lessons of Ukrainian nationalism over the course of his life, likely both at the school his parents sent him to in Dnipro, and within any Ukrainian diasporic institutions he may have crossed paths with. These lessons he did not mention to me directly; rather, the reflexively anti-Russian stance of his words led me toward these gleanings. Take, for example, his goodbye: "we will show them what real Ukraine is like, the way Bandera did." This was uttered to me in a tone I understood as a kind of solidarity-affirming call to keep my head up, because of the "we," and because these were parting words.
It is, historically, funny that anyone's praise for Stepan Bandera is something one can understand as evidence of a reflexively anti-Russian attitude. Bandera, after all, found his greatest successes in facilitating the mass murder of Jewish civilians by the SS and ordering the mass murder of Polish civilians by the Ukrainian Insurgent Army; he hadn't done as much as point a gun at a Russian in his life. If anything of the historical figure makes it to the popular imagination, it is not this willingness to kill en masse any perceived non-Ukrainians in the name of an independent Ukrainian state. It is not the OUN's ethnic cleansing and Holocaust collaboration that liberal nationalists in Ukraine praise, but rather nebulous existential positions like "opposition to Soviet-Russian aggression and imperialism;" that is, Bandera's commitment to lethal violence is understood as having been directed against an oppressor, in the face of overwhelming odds. (Never mind that most of whom the Ukrainian Insurgent Army killed in their anti-Soviet resistance campaign were civilians marked by them as collaborators with the USSR, especially schoolteachers, rather than any security forces; Alexander Statiev's The Soviet Counterinsurgency in the Western Borderlands is an excellent resource on the topic.) Being the last high-profile assassination of the KGB didn't help either, solidifying him into a martyr for Ukrainian anti-communists and giving their liberal sympathizers fodder for arguments about Bandera's brave fight against communism.
Then again, given the invasion, a reflexively anti-Russian stance from, well anybody, is much less surprising than it would have been even half a year ago. And given that most people's politics tend to be inchoate and inconsistent, I doubt Eleven meant to threaten me with his remark; frankly, I refuse to believe he is a committed follower of Stepan Bandera's doctrines. Historical figures tend to be invoked in casual conversation not for specific actions taken in their lives but for modern, politically expedient ideas they have been repurposed to stand for. The rise of Bandera's popular image as a Ukrainian freedom warrior happened concurrently with the rise of a Ukrainian idea that imagines the country as necessarily anti-Russian. With the old Soviet generations passing away, the quality of life continuing to decline, and the cultivation of the anti-Russian national idea in polite Ukrainian society and mass Ukrainian culture – as well as in diasporic Ukrainian-speaking circles in the US, which primarily Russian-speaking Ukrainians tend to avoid – the renewed popularity of Bandera's image amid a segment of Ukrainians makes a perverse sort of sense. Especially at this moment, after an overtly Russian-chauvinist state, with vastly superior military capability, has invaded an independent Ukraine, which no state is willing to aid directly in the fighting, there is a need for Ukrainian unity on the battlefront and a figure which might inspire it.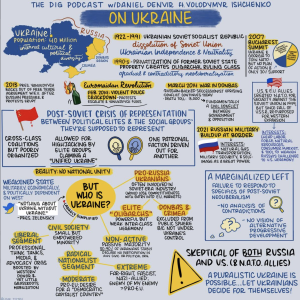 The nationalist minority has a simple answer for us. Long imagining a transhistorical Ukraine-oppressing Russia, the ideological descendants of Bandera find vindication for their claims in Putin's invasion. The conflict stinks of self-fulfilling prophecy: Ukrainian nationalists clamor for war against anything Russian; the Russian state exaggerates their strength and relevance, cynically deploying their pathetic existence as pretext for a full-scale invasion; and a rise in Ukrainian nationalist sentiment follows, almost inevitably coupled with an increase in nationalist organizational capability, because of the increase in credibility (and the West's arms shipments!) that the Russian invasion has granted them.
Now, from an armchair analyst in New York, a focus on pithy pro-Bandera rhetoric among a few people across the Atlantic may seem myopic. Sure, worrying about a failure of a Ukrainian Nazi state-builder and the few insane-sounding people who venerate him while civilians are getting shelled can be construed as evincing a pro-Russian position, but only if one follows the logic of the nationalists on either side of the conflict: anything anti-Ukraine is Russian propaganda, anything pro-Ukraine is Western propaganda, and so on. Being, however, a Ukrainian in the States, forces my hand in focusing on the Ukrainians here. And, given that whichever OUN members survived did so by fleeing the Soviet Union, of which a number landed and formed Ukrainian cultural organizations in the US, I see it as my responsibility to record any trace of Bandera-flavored nationalism in discussions about supporting Ukraine and Ukrainians affected by the war.
If you have been paying attention, you will know that we have, for the most part, lost this particular battle already. That "Glory to Ukraine" has been so popularized across the world now is not something we have the power to undo; we have to live with the reality that the easiest, most popular way for people to express casual verbal support for Ukraine was also an official slogan of Bandera's faction of the openly Nazi-aligned OUN. Hell, it's the official salute of the Ukrainian armed forces, and we can't change that either. It's disheartening, to put it mildly. But it is possible to imagine that plenty of Ukrainians smiling and repeating the slogan back at clueless Americans might not be doing so out of an affinity for Ukrainian nationalism, but rather because they feel they have little choice.
In fact, I spoke at length with two such Ukrainians, women named Tanya and Liza, who are organizing humanitarian efforts to send medical supplies to Ukraine through Poland, coordinating with an organization in Lviv called Razom. If you don't want to physically buy Ukrainian-themed T-shirts or bags from a booth next to the Ukrainian East Village Restaurant, you can send money to @LizaKonovalova on Venmo; the women buy the supplies themselves and send them through a delivery service called Meest. They are also working on starting an Instagram page on which they display the supplies they buy before sending them out.
Liza is from Alchevsk, a city in Luhansk oblast in east Ukraine. Her family fled the area in 2014, when hostilities in Donbass first started, settling in Lviv. She recounted no horrifying tales of harassment of her primarily Russian-speaking family in the primarily Ukrainian-speaking city of Lviv. Their new neighbors were kind, she said, considerate and understanding. Her family found permanent shelter, work, and sounded happy to be alive, to have been granted the opportunity to get used to a new city and to have gotten used to it. Liza seemed secure in the conviction that her family is away from the worst of the conflict, and I didn't press the point, seeing no need to encourage anybody to worry more. Like the rest of her family, Liza is primarily a Russian speaker, but she was educated in Ukrainian. She has no trouble switching back and forth: when I asked her – as I did every person on my sojourn – in Ukrainian, which language she was most comfortable speaking, she switched to Russian. Liza works in finance, and her job has given her ample time off; she is a graduate of Dickinson College, and a rare case of an international student in a US college to have received a generous financial aid package. The thing she told me most eagerly included in this recollection is: "GoFundMe sucks." She ran into trouble accessing the money she and Tanya had collected, because their page was flagged for contributing to military objectives: certain wording implied that the medical supplies she'd buy and send to Ukraine might be used to treat soldiers (the horror.) As of our conversation, the trouble was still being sorted out.
When I approached Tanya at the booth, we started off in Ukrainian but continued in Russian once she told me that she's from Kherson. Her support for Ukraine was unqualified. There were flyers she designed and put on display at the booth that called for a no-fly zone. Her entire family is still trapped in Kherson and sleeps in the hallways of their apartment building because they do not have access to a bomb shelter or basement; they are vigilant about staying awake at night to scour Telegram for word of Russian soldiers breaking into civilian residences or of Russian bombing in the area, because their nearest bomb siren is broken; they often fall asleep anyway because of how exhausted they are. The building Tanya spent her childhood in has been reduced to rubble; her father sent her an image of it he took on his phone. Her brain is so fried that she forgot the passcode to her own phone two weeks ago and needed help in restoring it to working condition after the phone's security mechanisms shut it down. It is all, she said, very strange. The city of Kherson is encircled and blockaded by the Russian military, but people tell her to get her family out of the country anyway. Tanya was full of an exasperation familiar to anyone unsure what to do in a situation in which your actions seem to amount to nil, but she decided to do something anyway. She would volunteer her time at the booth along with Liza, she would design the T-shirts and bags that they sell, and together they would make the effort to find, buy, package, and send the medical supplies that Razom informed them were needed. It is a given that she also falls asleep and wakes up to Telegram updates about the war.
Tanya painted a dire picture, but she remained level-headed for the duration of both of our two conversations, never losing sight of the fact that it is the lives and livelihoods of her family in Kherson, rather than hers in New York, that are in most immediate danger. She did not, in other words, make it about herself. I asked her about things like her job (pharmaceutical equipment company desk job/graphic design freelancer), her English (got rusty in Covid quarantines), how she ended up here (married an American, divorced since), and if her family ever visited her (no, they like to stay where they are, plus her mother has high blood pressure and is afraid of the ocean); each answer led back to the war in some way. She spends her time and energy on volunteering that she would usually spend on freelancing; she has little opportunity to practice English as that would involve venturing out of a social world she feels she must stay within to keep up with the war; the loss of her American family in the divorce stings more now that her family in Ukraine is in danger; and her parents are happier than ever that Tanya left Ukraine. She had procrastinated planning a visit to her family in Kherson in February, and that is the thing that she feels has worked out most in her favor over the past two years.
During our second conversation, we were discussing the increased popularity of the restaurant we were next to, and how choosing the location of the booth was influenced by this increased popularity. I asked about who tends to come by their booth more: locals or tourists, Americans or Ukrainians, young or old. It was, at best, a half-leading question. It was a surprise to hear Tanya say that most people that came and bought products from them were adequate, because it was an admission that some people weren't, and an invitation to ask who wasn't. The man she considered "inadequate" started his conversation with an objection to a blue and yellow poster on their table that displayed a peace sign. "We don't need peace," he told her, "we need victory." She tried to retort in Ukrainian, to which the man responded by interrupting her, which stunned Tanya into an embarrassed silence. He then extended his arm toward her, placed his hand on the back of her neck, and, leaning in, said: "You are so Russified…" before walking away. Tanya recounted getting the shivers and said she feared for her life.
The first thing that popped into my head was the thought that for a man like that, what is a little unwanted physical contact from man to woman? The touching may very well be something he felt he had all the right in the world to do before any invasions. But to couple it with the rest of what he said, and do it in a public place, well – that seemed like an example of a Ukrainian nationalist feeling emboldened.
Unfortunately, Ukrainian speakers harassing a woman for a real or perceived affiliation with something Russian came up with more than one person. Another woman I spoke to, Olga, described taking multiple calls at her workplace, with the callers, which notably have been both men and women, asking specifically for her, then launching invective at her like "traitor," "Russian spy," "you work for the Russians," "Russian whore." Olga is one among many Ukrainians who find employment in New York in a Ukrainian-run, Ukrainian-owned business located within an immigrant residential enclave; these are bookstores, grocery stores, restaurants, car repairs, pawn shops, and so on. She, like the rest of the Ukrainians that work at such establishments, has no control over most of them being owned, run, and generally peopled by primarily Russian-speaking Ukrainians, often Russian-speaking Jews, many of whom consider themselves Ukrainian strictly in the sense that they were born in the Ukrainian SSR. These are Ukrainians that are not affiliated with blue-and-yellow flag-waving diasporic organizations; their businesses run in Russian, and the outward-facing parts of their spaces are designed along a bland, vaguely Soviet aesthetic rather than an outdated, folk-Ukrainian one.
The deli Olga works for is in Staten Island, which is home to several such businesses. She and I spoke, however, in Ukrainian; when I asked which language she prefers, she said she didn't mind either and asked me to choose. (I chose Ukrainian because I speak Russian at home.) She is from Oleksandriia, in Kirovohrad/Kropvnyts'ka oblast, in central Ukraine. Her mom grew up speaking Ukrainian, her dad Russian, and both are still in Oleksandriia. Her older brother is in the Ukrainian army reserves; still, she can't help but get worried when he doesn't pick up her calls. She came to New York on a student visa, spending five years here undocumented after it expired, until finally obtaining residency papers a little over three years ago. She recounted this to me like it was a day in the park and not a harrowing trial. Unlike Tanya and Liza, Olga feels too overwhelmed by Ukrainian Telegram channels reporting on the war, sticking strictly to speaking with family and friends on the ground for updates. (This kind of relationship to news out of Ukraine seems ideal to me; I suggested as much to my parents, but they remain enchanted by American TV coverage of all political stripes.) Most telling, however, was how she revealed to me that she had been harassed repeatedly by Ukrainians that she understood to be nationalists, or at least nationalist-leaning. I had asked her if the recently increased amount of attention Americans paid her on account of her being Ukrainian bothered her in any sense. I was angling for a critique of American liberal virtue signaling –stuff like putting flags in Twitter display names, posting Instagram stories of dinner at Veselka, telling people to spell it "Kyiv" not "Kiev" – but she responded by saying that it didn't bother her, really. What did bother her were these phone calls.
She did not, however, seem intimidated; she sounded more annoyed and exasperated at the existence and the gall of "such idiots." I did not press the point that these may very well have been the Nazi kind of idiots. Nor did I ask if her deferral to my language of choice was her way of avoiding potential harassment. We instead talked more about her recent break-up with a man from Lutsk, about how she had found her way to Staten Island, about her ethnically Russian friend from Moldova whose spouse's family stopped speaking to him on account of his being Russian, and about a ridiculous Mark Wahlberg flick she had seen recently, Three Kings. It was a joy to get to speak Ukrainian. Whenever I speak the language for more than a second, I feel like I get what Benedict Anderson was talking about. The sense of wonder, the way reading a book, hearing a song, or having a simple conversation in your native language can feel like community-fostering actions in and of themselves. I think specifically of these sentences from Imagined Communities: "But amor patriae does not differ in this respect from the other affections, in which there is always a fond element of imagining… What the eye is to the lover – that particular, ordinary eye they were born with – language – whatever language history has made their mother tongue – is to the patriot. Through that language, encountered at mother's knee and parted with only at the grave, pasts are restored, fellowships are imagined, and futures dreamed."[1] It is to my eternal chagrin that language and its capacity to enamor a person's brain like music is tied intimately to how nationalist sentiment develops in people; and, from a certain limited, poetic standpoint, it is a massive failure of imagination on the part of the nationalists to hear a person speak Russian and not see a Ukrainian.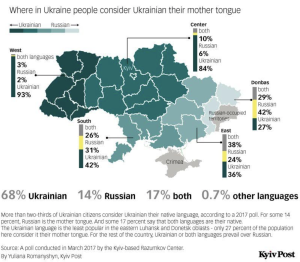 Three out of the five people I spoke to chose to communicate in Ukrainian: Olga, Eleven, and Mykola, a security guard at a private school in Manhattan popular with Ukrainian immigrants. He is from Ivano-Frankivsk, and he was by the far the most reluctant to speak with me. I take his reasons for hesitation to reside somewhere between an older man's suspicion of a stranger prying into his business and a general weariness about the world. The Ukrainian I speak is clearly literary, a common giveaway for Kyivan socialites; plus, he had been the first person I gathered to courage to speak to, so maybe my nervousness showed. Mykola has been a guard at the school since 1998. Like the other four people I spoke with, he had attended a few of the initial rallies in Times Square in support of Ukraine at the end of February, when the invasion had just launched. And, like the other four, he had grown too exhausted to continue attending after the first week. The family he had that remained in Ukraine has gotten out and made their way to Poland, as of three weeks ago; he is hoping to see them soon. When asked about his feelings, he said only that the worst wars are always in Ukraine, and it all started with the Golden Horde. I didn't have the heart nor the mental bandwidth to argue the point; an adversarial start wouldn't have helped me talk to him. But talking to him proved elusive regardless; Mykola, with a glint in his eye and a facial expression resembling most closely a smirk, kept telling me to speak to the American security guard my age, Stephen, who spoke not a word of any Slavic language nor knew much about Ukraine. "The worst wars are always in Ukraine" is what I have to work with. I am thankful, in retrospect, that he didn't bring up the Banderites.
Three out of the five did bring up Ukrainian nationalists in some way: Eleven brought up just the one, and Tanya and Olga were harassed by Ukrainian speakers they perceived to be and persuasively argued to be Ukrainian nationalists. (Liza did not bring them up even when prompted by my question about her Russian-speaking family in Lviv; she and hers have thankfully been left untouched.) Even from this silly sample size, it seems plausible to infer that the various groups comprising Bandera's ideological descendants, much like their rancid political projects, remain a minority among Ukrainians. But these descendants do exist, and they declare, defend, and act on some of their positions louder than others. One of those positions is that Russian speakers deserve maltreatment. The scattered, anecdotal testimony collected here may not seem like much. I know it isn't. Still, I wouldn't to dismiss it out of hand. Elements of the Ukrainian far right have been breaking up pride marches and beating gay people for years; they have been harassing and beating Roma people for years; there is not a doubt in my mind that, for years, they have been itching to lay their hands on some Russian speakers. The war provides them with ample opportunity, and we would be fools to think they would confine their efforts to the Russian soldiers. The Russian military already kills civilians; violence against civilians perceived to be supporting Russia will be seen not only as necessary, but also as retaliatory. The Ukrainian government has the theoretical capability to discourage, deter, and punish this violence, if – when – it happens. But why would it?
At least once, in 2014, the violence of far-right groups in Kyiv proved useful for a certain faction of the Ukrainian political class, the Western Ukrainian, EU-oriented capitalist bloc that came to power in the wake of Maidan. With war engulfing the entire country, it is basically impossible for the willingness and the capability of the Ukrainian far-right for violence to be seen by the Ukrainian state as anything else except as an invaluable asset. Of course, not everything that's happened with the invasion has been to the nationalists' advantage; one obvious point being that most of the willing fighters among them are more likely to find themselves riddled by bullets or blown into pieces rather than at any reins of government. But in an anti-Russian cultural climate that feels more logical than ever in Ukraine's independent history, these most fervent anti-Russians have unprecedented room for maneuver. Here in New York, this emboldenment can be said to translate, in at least two cases, into harassment of women. This makes sense, too, once we consider that far-right groups tend to choose targets they consider weak in the ranks of those they consider enemies. Men will probably get harassed less by the Ukrainian nationalists, because they tend to make for more difficult targets. Either way, support for Banderite conceptions of Ukraine, however ignorantly granted, must be countered, somehow. I am not sure I have done anything useful in that regard with my record of these conversations, but I have made more of an effort than the day before. I am hoping this enables me to ask more of myself the next day.
[1] Anderson, Benedict. "Patriotism and Racism," Imagined Communities: Reflections on the Origin and Spread of Nationalism, Verso, London, 2016, p. 154.
.