Part I
Like most Americans I am obsessed with celebrities. I am often that annoying person holding up the line at the local Rite Aid with her one item (usually Twix caramel chocolate bar), thumbing idly through the latest People magazine, scoffing at the newest celebrity break up and feeling vindicated that romantic love is just a series of momentary indiscretions. From watching an age-less J'lo on Dancing with the Stars to scrolling through my Reddit feed to piece together the latest gossip of the couples appearing on the series 90-day Fiancé, reality shows and celebrity gossip occupy my "free" time. Of course it is easy to write off American fascination with celebrities and the "culture industry" as a tool of capitalist control.
I am pretty sure in the era of social media where every type of content is monetized, Adorno 1 is smugly looking down on us from full luxury communist heaven chuckling at our attempt to break free from the iron cages of pop cultural hegemony. I'd like to think however that we have a more complicated relationship to celebrities and pop culture. Besides I never forgave Adorno for his dismissal of jazz (but that's another matter). Next to alcohol and drugs, pop culture grants us a momentary escape from our lives—our mundane boring days that are often filled with dread and anxiety about paying bills, working jobs we may despise, dealing with health issues, family problems, impeding ecological collapse, the flurry of incoherent tweets from our president and traffic jams.
The lives of celebrities are the Black Mirror2 version of our own; everyday problems and personal lives readily available to endure public scrutiny and blown out of proportion by social media. In fact, many celebrities grew up not fitting into mainstream societal expectations and are dealing with their own unresolved childhood trauma, dysfunctional family dynamics, depression and anxiety with copious amounts of alcohol and drugs (like many "regular" people). They just tend to have more expensive drug habits than most. Fame is what often separates us—unlike our breakdowns which happen in the parking lots of local supermarkets or at family gatherings under the thin veneer of holiday civility, theirs are covered by media outlets for years to come. Like for instance the infamous video of Britney Spears' smeared face shaving her own head as the paparazzi watched on–which I have replayed over and over again in my own dark moments.
While every historical epoch seems to produce its popular culture icons, it seems like we are in such short supply that we keep retuning to the past. It kind of makes sense. After all, it was the 1985 cult-classic "Back to the Future" that predicted the rise of Donald Trump. From Netflix shows like "Glow" and coming-of-age sci-fi horror "Stranger Things" (#winonaforever), to the reboot of "Rosanne" and Spielberg's "Ready Player One," to fashion styles that include headbands, puffy sleeves and ruffles, the 1980s are back with a vengeance. Even new Democratic darlings like Elizabeth Warren see the 1980s as an important era to reckon with—it was the dawn of the era of unregulated capitalist markets that she and the most diverse group of congresswomen want to restrain and hold accountable all the while rocking red lipstick.
A couple of weeks ago on various Delta Airline flights, I watched two newly released documentaries (the only small luxury afforded to airline travelers nowadays) delving into the lives of two of the most important pop culture icons of the 1980s and 1990s: Whitney Houston and Lee Alexander McQueen. On the face of it these two talented and creative minds seem to share little in common but they both shaped mainstream popular music and fashion in an era that witnessed the end of the Cold War, the rise of computer technology and the election of Reagan and Thatcher. Through these two documentaries, we become privy to just how much drugs masked deeply buried childhood trauma and abuse. Even their creativity, talent and wealth couldn't save them at the end: Whitney Houston drowned in her bathtub at the age of 48 and McQueen committed suicide by hanging at the age of 40. Drugs were said to have been a contributing factor in both of their deaths.
Part I: America's Pop Princess: From Nippy to Whitney
"I'm either my best friend or my worst enemy. And that's how I have to deal with it," an emaciated Whitney told Diane Sawyer in the now infamous 2002 interview. Sitting in her Atlanta home, Whitney denied her drug use and argued that she was far too rich to use crack cocaine. Three years later fans were granted an exclusive view into Whitney's personal life and her relationships with her husband and daughter through the reality show Being Bobby Brown. The show was more about Whitney's antics than anything else and despite the negative reviews it received, her eccentric personality and overall silliness was fun to watch.
Yet even her good-natured humor and goofiness couldn't hide their troubled relationship and rocky marriage which ended in 2007 six years before Whitney death. The reality show also affirmed the tabloid rumors: America's pop princess had turned into the laughing stock of the nation and mostly everyone, including me and all my close friends, blamed Bobby. Whitney's talent and tremendous impact on music was replaced with a collective public fascination with her drug abuse and her relationship to bad boy Bobby Brown. This is why I was excited and cautious about Kevin MacDonald's new documentary which was commissioned by the Whitney estate, spearheaded by her mother, gospel singer Cissy Houston, and her two brothers. In the documentary and for the first time ever perhaps, Bobby Brown takes a backseat and we get a glimpse of Whitney, her childhood and family life, her sweet wholesome demeanor alongside unresolved trauma that followed her into adulthood.
In the 1980s and 1990s, Whitney rose to pop music royalty. She had a confident and magical way of interpreting music and once she made it her own you could never imagine anyone else singing the same song. Today when so many vocal artists sing out of their range, Whitney's vocal depth was extraordinary and precious. She was a master of the technique of using her body to control her breath which can be gleaned in her careful melismatic rendition of Dolly Parton's love song "I Will Always Love You" in the 1992 film The Bodyguard. She also broke many barriers. She was one of the first black women to appear in Seventeen magazine and on MTV. She was the best-selling solo female artist of the 1980s; she and Madonna hold the record for the most number one hits. In 1992, her song "I will Always Love You" became the best-selling single by a female artist; it topped the Hot 100 Singles chart for fourteen consecutive weeks.  Whitney's voice and talent influenced a whole generation of singers including Mariah Carey, Beyoncé and Alicia Keys. Like many pop celebrities, she rose to fame at a very young age and her road to stardom was not without struggle and pain.
Since her death, various people from writers to filmmakers have tried to understand Whitney and in their own way resurrect her back into the pantheon of pop culture goddesses. Until 2018 the most popular film about her life was Nick Broomfield's "Whitney: Can I Be Me?" which highlighted the singer's fraught relationship with Bobby Brown, her rumored bisexuality, drug use and her "blackness." The film draws out how marketing teams and Arista's Clive Davis shaped and molded her to be accepted by mainstream (white) audiences. For instance, in one of the interviews, an Arista head of promotion plainly states: "We didn't want a female James Brown." Besides being a beautiful woman with an incomparable voice, her transition into pop was helped along by the revolution in music production—with MTV's introduction of music videos to American audiences forever changing the landscape of popular culture. In the 1980s she was one of the few black artists whose videos were played alongside Michael Jackson's "Billy Jean" (1983) and Prince's "When Doves Cry" (1984) (Yo! MTV raps would not air until 1988). Her super-80s "I Wanna Dance with Somebody" was on heavy rotation and would win her best female pop vocal performance at the 30th Grammy awards. Yet, as this previous documentary makes clear, Whitney had a complicated relationship to her "blackness."
Broomfield's documentary focuses on a pivotal moment in Whitney's life that touches on her racial identity: her reaction to being booed at the Soul Train Awards in 1989 where ironically she would also meet her future husband, Bobby Brown. There were many rumors surrounding why she was booed: some argued that people were growing tired of all the praise she was receiving at the expense of other artists being ignored while others contended that her latest album was too bland and it had lost the soul sound that many expected from an R&B singer. A year later she would redeem herself with her third album "I am Your Baby Tonight" where she exerted more creative control and went beyond what Arista execs wanted of her and choose to collaborate instead with L.A Reid, Babyface and Luther Vandross.
Yet, it is clear that the audience response at the Soul Train Awards really affected Whitney and that she took it as a personal affront. Appearing on BET in the late 1980s she responded to critics accusing her of "sounding white": "Anyone can look at me, and see that I'm a colored woman." This earlier documentary also pinpoints Whitney's relationship to Bobby Brown as her own way of confronting her identity crisis: being a light skinned black woman with massive appeal in mainstream (white) popular culture. Unlike Whitney, Bobby Brown was never questioned for not being "black enough." Responding to critics weary of her marriage to Bobby, Whitney would say: "I'm like this American princess and white America wants me to marry a white guy. They don't understand why I'd want a strong black man." As the new documentary by Macdonald reveals, Bobby Brown was not such a confusing choice as the media made it out to be. In many ways he was an extension of her father and two brothers: selfish and a braggart.
Sounding "white" could be one way of interpreting her ability to cross over into mainstream (white) pop culture. Doreen St. Félix, a staff writer at the New Yorker reflecting on the Whitney's life and music put it another way:
"….Houston herself came from an era that dissuaded her from meaningfully admitting to this brokenness in her music. Instead, Houston code-switched: between black vernacular and white English, palatable pop and searching R. & B., between producer's plaything and autonomous composer, between haughty grace and extreme vulnerability, between alertness and breakdowns—and she did so tremendously, tragically."
This must have taken a toll on Whitney. In the 1980s there were only a few black pop artists being embraced by mainstream (white) popular culture. MTV at that time largely catered to white artists. This explains perhaps why she found solace in her friendship with Michael Jackson. The two would meet up and just sit alongside each other in silence. As Macdonald noted in an interview with Vanity Fair about the new Whitney documentary, Whitney, Michael and Prince, the most famous black pop icons of the 1980s shared "very similar circumstances, between the drug abuse, the isolation, and the eccentric behavior." Today mainstream America's response to black pop artists is poked fun of like in the SNL skit where white American audiences have a complete meltdown when they uncover that Beyoncé is indeed black. In many ways Whitney, Michael and Prince paid a heavy price for this acceptance.
In her review of "Whitney," cultural critic Soraya Nadia MacDonald talks about the two women that resided inside of Whitney: Nippy—the black girl from post-riot Newark, the innocent, well-off but yet bullied little girl whose sexuality was complex and Whitney, the public persona who exemplified "the American dream with a deep tan." While the tabloids focused on the latter they forgot that in some ways Whitney was a brand which was molded and shaped by Arista and her mother Cissy Houston. Yet, behind the cameras she was just Nippy, a down to earth girl that liked to hang out on the couch in her PJ's and loved to sleep. Her death on the eve of Clive Davis's party was perhaps her revenge on the record company execs that played such a dominant force in her life. While the Broomfield documentary focuses on how marketing executives advertised Whitney to mainstream audiences, the new and recent film by MacDonald explores her private and family life. When asked about his intentions behind making the documentary, MacDonald revealed "I wanted people to see her on a human level as the little girl who got lost." The movie relies on a lot of home videos to reconstruct her childhood and adolescence—we see a young Whitney singing in church, hanging out with family, eating ice cream with her best friend and rumored lover Robyn Crawford.
MacDonald admits that while he could not include everything in the documentary, he tried his best to make the movie "feel like an investigation." He confesses his interest in exploring the trauma and pain that led to her drug addiction and untimely death. He examines Whitney's life chronologically and situates her rise to fame in the background of changing American life: the Newark riots, MTV and Ronald Reagan. As the Washington Post wrote about her at the time of her death, Whitney was born into a musical aristocracy. Her mother was a gospel singer trying to make it, her cousin was Dionne Warwick and Aretha Franklin was her godmother. Whitney's father John, a former truck driver turned political muscle for Kenneth Gibson, first black mayor of Newark nicknamed her "Nippy." He later became her business manager and CEO of her company (he would later go on to sue her for $100 million). The Houston family left Newark a year after the 1967 riot left 26 dead and over 700 people injured. They were part of the black middle-class exodus to East Orange, NJ with the rough streets of Newark hanging over like a dark cloud. The beginning of the film delves into her upbringing in New Jersey—the New Hope Baptist church in Newark her mom maintained ties with, home videos showing a young Whitney singing in church and joking around with her two siblings. There are three subplots that run through the documentary that haven't previously received that much public attention: Whitney's relationship with her mother, her friendship and romance with Robyn Crawford and never before revealed information about sexual abuse that she endured as a child.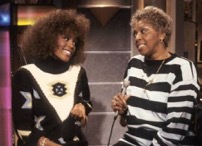 (Whitney with her mother)
Seated in the wooden church pews she sang from, Cissy Houston rests on a cane and talks about her daughter with a cold melancholic look, her glassy eyes breaking into a smile when discussing Whitney's talent. Like all mother daughter relationships, theirs was a fraught one that was heightened by Whitney's talents and her mother's desire for her daughter to achieve success and fame. Cissy groomed her daughter to stardom through everything from voice lessons to negotiations with music execs. However, growing up Cissy and John were not always around. Cissy was busy launching her solo music career and with John working full time Whitney and her brothers spent a lot of time in other family members' houses.
Then there was the allegation that Cissy had an affair with the minister of the family's church which deeply wounded Whitney perhaps shattering her image of her parents as the perfect loving couple. It is not clear if it was this affair which led her parents to separate later or an accumulation of other unresolved issues. Despite their separation, both maintained a constant presence in Whitney's public life, showing up at events together, never interrupting their daughter's success with tabloid stories of their estrangement. They never did file for legal divorce. It is Cissy who recognizes her daughter's talents and pushes a shy Whitney on stage one night by lying to her and saying she was too sick to perform. Of course Whitney's voice wowed everyone. Like most parents, Cissy seemed to live out her dreams through her children. She herself was a hard working singer who did not "make it." She is well aware that her daughter was often bullied by other kids in the neighborhood for being light-skinned and she tries her best to protect her by encouraging her singing talents.
Once Whitney rose to stardom at the tender age of 23, she repaid her family in kind: she hired them and together they went on tour. Her brothers partied heavily. They introduced her to drugs, first marijuana and then cocaine. In the MacDonald documentary, Whitney's brothers admit on camera their part in Whitney's drug use which predated her relationship with Bobby Brown, who they jokingly call a "light weight." Yet, for hard core Whitney fans this is not new revelation. In 2013, Michael, Whitney's brother publicly admitted on Oprah that he was the one that introduced Whitney to drugs back in the 1980s. The brothers justify it and say that at the time everyone was doing drugs. There is some truth to this of course. In the 1980s, cocaine was Hollywood's preferred drug of choice. It was the ultimate party drug to numb the politically conservative era of Reagan with all night dancing. The Houstons managed to leave Newark but they didn't leave behind the drugs that consumed their neighbors around this time and which would have catastrophic consequences for many working-class people across inner-cities in America.
The documentary does a good job to show how the Whitney phenomena was family-led–all members did everything possible to ensure that her career was a successful. Her fame, career and public persona in a way mattered so much that everything was done to keep that moving train going—at the expense of her health, well-being and sanity. Whitney's family members were her biggest supporters and also those that took advantage of her the most: they stole money from her left and right. Family emerges as a complicated force in Whitney's life, especially their reaction and often barely disguised tolerance of her friend and rumored lover Robyn Crawford.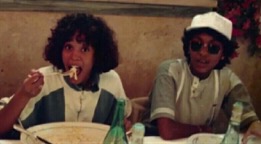 (Whitney with Robyn)
Second to her relationship with her mother, her friendship with Robyn is an important subtext in the film. Watching the home videos of them hanging out you can see a deep bond of friendship develop. Before she met Robyn, Whitney divided her life between school and church. They met at the age of sixteen in East Orange and quickly became besties. When asked about Robyn, Whitney reveals: "Robyn was tall and statuesque, and I was like, 'Wow, I've been waiting for this person all my life.'" Robyn accompanied Whitney everywhere—they were inseparable. As Nippy transformed into Whitney, her best friend offered her solace in a friendship that was grounded in unconditional love, acceptance and most importantly as a family friend put it in the documentary "a safety net." She became Whitney's executive assistant and creative director. Of course, in public interviews when Whitney was grilled about her romantic life, she denied her relationship with Robyn and rumors that she was a lesbian. Instead she talked about the men in her life: Eddie Murphy and Randall Cunningham.
"Robyn was a nobody. She was wicked, evil, and an opportunist. She was someone I didn't want my sister to be involved with. But she got involved with her, for whatever reason… I knew Whitney was a lesbian – for sure I knew. I knew what she was, and I tried to tell my sister to leave Robyn alone," an agitated brother, Gary, says on camera.
While the documentary was commissioned by the Whitney family, ironically they come off looking the worst: insensitive, money hungry and bent on destroying her friendship with Robyn. Her family is forthright about Whitney's history of drug abuse (her brothers even brag about their drug use on camera) but Robyn, her bestie and rumored romantic partner is silenced. The Houstons clearly never liked Robyn. Only her hair stylist opens up about this romance and the important role that Robyn played in Whitney's life. Another person claims Whitney was "gender fluid." A family friend admits that Whitney's father was trying to "scare" Robyn, which the viewer can interpret as a plot to physically her which he ultimately decided against, fearing the media's retaliation. Robyn and Whitney grow apart especially around the time of her marriage to Bobby. In the documentary the romantic relationship between Whitney and Robyn continues to remain at the level of gossip—bits and pieces culled from interviews with friends and family and the viewer's own interpretation of their interactions in home video clippings. Robyn herself is never interviewed. In fact, she declined to appear on the documentary. I found it interesting that in all of the publicity surrounding Whitney's life and death, Robyn has never come out. She remained her most loyal friend until the end. She has managed to keep her knowledge of Whitney and her life with her private thus far.
"When you don't resolve things, when you don't deal with things, they never go away," Gary tells the viewers. Secrets abounded in Whitney's life. Even in such a tight-knit family as hers, so many things were left unaddressed. The whole documentary feels like the series of smaller admissions that many hard core Whitney fans already know and which will soon build up to a big reveal. And then it comes. In the last minutes, a teary-eyed Mary Jones, Whitney's assistant reveals that Whitney and her brother Gary were molested as children by Dee Dee Warwick—Dionne's sister. Whitney never told her mother, fearing her reaction. Mary encourages her to do so and tells her: "one day when you get the nerve, you need to tell your mother. It will lift the burden off you." In interviews with the press, MacDonald divulged that he himself was not aware of this information and he did not come to it until the 11th hour" so to speak. At the end of the documentary you are left thinking about how much this earlier abuse shaped Whitney, her life and struggle with drugs. It makes you see other parts of the documentary in a new light, for instance her insistence on taking her daughter Bobby with her on tour (the incidence of abuse allegedly occurred while Cissy was on tour).
Cissy and her family never knew (at least it is what she has publicly stated) that the filmmaker included the allegations of abuse in the documentary until it was screened at Cannes. In response, Cissy issued a public statement denying the allegations of abuse, reaffirming how supportive her family was of Whitney's career and defending Dee Dee and Dione. It is sad to see that Cissy cannot come to terms with what her daughter went through. Cissy's choice to do the documentary was perhaps her own way of redeeming her daughter in the public's eye: focusing on Whitney's talents which we have forgotten in our collective fascination with her drug abuse. Cissy was right to point out the moral implications of the filmmaker to keep this detail from the family. Was the filmmaker's intention to reveal this secret to give us better insight into Whitney's struggles or exploit her memory with one more yet unrevealed mystery? Cissy criticizes the filmmaker for not being culturally sensitive and for misrepresenting the hard successes of Whitney. Yet, Macdonald offers us a portrait of Whitney and her family, quintessential middle class which gained acceptance in mainstream culture for her looks as much as her talent and which despite fame experienced struggles. The resilience and striving that Cissy instilled in her daughter was not enough; Whitney experienced intense isolation and depression.
In 1987 for a story on Whitney's fame in Time Magazine, she is quoted as saying:
"I've always been a private person. In grammar school some of the girls had problems with me. My face was too light. My hair was too long. It was the black-consciousness period, and I felt really bad. I finally faced the fact that it isn't a crime not having friends. Being alone means you have fewer problems. When I decided to be a singer, my mother warned me I'd be alone a lot. Basically we all are. Loneliness comes with life."
Her mother and Robyn tried to protect Whitney but it wasn't enough. In Macdonald's documentary, Whitney emerges as a complicated human being who struggled with her demons, never fully standing up for herself, trying to bury her past into her creativity and, at other times, with drugs and ultimately giving up. It was so heart-breaking to realize that in her life Whitney never stopped being bullied: by her peers, the media, Arista execs, her husband and her family. MacDonald's documentary does what any good biopic can strive to do: inspire more questions in the viewer.  At the end, I thought a lot about Whitney's relationship to her daughter, Krissy. I also wanted to know more about Whitney's creative process. She was without a doubt an amazing singer and a master interpreter—she took songs and made them her own in a way that leaves you in awe. But she never wrote her own songs. All in all, I high recommend the documentary. Whitney emerges as a very complicated person: a shy and often insecure girl catapulted into stardom, a tomboy, a homegirl and best friend, a hard worker and talented singer, a daughter that tried her best to please her parents, a woman who loved, a wife that often sacrificed her own needs to boost her husband's ego and most of all someone who wanted to be loved and accepted.
Part II: Alexander McQueen: High School Drop Out to World Renowned Fashionista
coming soon…….
---
1 Theodor Adorno was a German philosopher and leading member of the Frankfurt School of critical theory. Besides other things, he is most known for his critique of the production of culture in capitalist societies. In Dialectic of Enlightenment, he argued that popular culture stultified the masses into passivity. Through the concept "culture industry" he was interested in exploring how mass production in capitalist societies shapes the culture that people consume: everything becomes homogenized for mass consumption. In this process the masses are defrauded and at the mercy of the companies' profit motive.
2 Black Mirror is a 2011 sci-fi series that first ran on Britain's Channel 4 and then on Netflix. Through seven seasons and in the format of stand-alone episodes, the show plays on our collective anxieties about the uncertain future, especially our relationship to technology and social media.