On October 1, 1977, Edson Arantes do Nascimento, a/k/a "Pelé" played his last game as a professional footballer. The game was played at New Jersey's Giants Stadium, across the Hudson River from midtown Manhattan's Port Authority Bus Station in New York City, a truly seedy place, but one where soccer fans without cars could drop a few dollars for a coach ticket up to the entrance gate. This made it possible for the Stadium owners to fill up the place on game days. Soccer wasn't exactly an American pastime in 1977. At least half of the people who went to matches in New York were West Indian or Latin American, and without drivers' licenses or a lot of money to spend on transportation. Many were recent Eastern European refugees with little interest in driving the mammoth cars still coming out of Detroit in the '70s.
On that October day, I got to go to the game, a budding American soccer sophisticate, 11 years of age. The ride to East Rutherford, NJ was nothing to write home about. Still, it meant a lot to me to take those rides. I did so every other Sunday for the next two years, in 1978 and 1979, when the New York Cosmos played their home games against the other teams that belonged to the North American Soccer League (NASL), the precursor to today's Major League Soccer (MLS).
What made those rides special was the opportunity to hang out with Gerry, my father's romantic partner of four years by the time Pelé played his last match in 1977. Gerry was a tall, handsome Black man, who loved sports, all sports. He was also a man with whom I was unable to connect too much, beyond our love of sports. That likely owed to our mutual indifference, born of the competition we two were constantly waging to be my father's priority. On day two of knowing him, Gerry took me to my first major sporting event, a Mets-Padres baseball game at Shea Stadium, in 1973. Soccer would become my fleeting passion in the late-1970s, but I forever fell in love with baseball and the New York Mets on that day at Shea.
I probably fell for Gerry in some weird way, too. Not only for taking me to the game and teaching me how baseball worked, but for making things less awkward to a 7-year-old boy who had no understanding of "gay," and who still wanted to know when his father was going to take up with another woman after my mother left for Puerto Rico with my little sister. In teaching me how to use those written scorecards that were so popular in the stands during baseball's pre-electronic era, Gerry was able to do something my father couldn't do, and something the family members who generally shunned them both seemed unwilling to do. I also fell for Shea Stadium at that Padres game. The Mets were competitive in 1973, so I never saw a crowd that big in my life. I also thought it was cool that so many different people could sit together and cheer, boo, etc., united by the fear and loathing that has long united Mets' fans of all stripes. If I recall right, the Cosmos played some games at Shea, too, while Giants Stadium was still under construction and the far more successful New York Yankees were playing well into the fall.
Pelé's final match was an exhibition between the Cosmos and Santos, the Brazilian team he represented for most of his professional career. In a wild 90 minutes, Pelé played this last match for BOTH the Cosmos and Santos. In the first half of the match, he donned his Cosmos jersey, the one he had been wearing since 1975, when he came out of retirement from Brazilian soccer to join the NASL. Perhaps motivated to leave Brazil because of its dictatorship, perhaps by the money on offer by the Cosmos, perhaps both, Pelé inspired a host of internationally heralded footballers to join him and come to America to play in New York. The great Italian striker, Giorgio Chinaglia, enthusiastically followed from Massese, Internapoli, his club team across the Atlantic. Franz Beckenbauer, the unrivaled German midfielder, would travel to the States the next year. Carlos Alberto, arguably the best defender to ever play the game, would eventually join them both, making the trip north to New York from Pelé's home country and the Brazilian club team that they both used to play for, Santos.
It was his Santos jersey that Pelé wore in the second part of the match. The spectacle did not last long, however. A torrential downpour commenced shortly after the second half began, drenching the pitch and leading to no further scoring after Pelé himself scored a goal for the Cosmos in the game's first half. The Cosmos won the game in Giants Stadium, 2-1. In Brazil, there was a joke about the rainstorm after the match. It was said that even the skies cried after Pelé scored that second goal for his adopted team in the US. The Brazilians took it all very hard.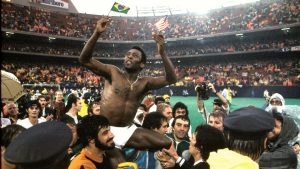 The Americans, native and adoptive, seemed to warm up to soccer after getting a taste of Pelé's acrobatic play on the field. And even though he would retire from his second home in Giants Stadium, the Cosmos caught fire where local fans were concerned, at least for a couple of years. As the 1978 season commenced, the Stadium began to fill on those alternating Sundays. By 1979, many more buses were scheduled to get fans from Port Authority to the field in East Rutherford; more concession stands were opened, too. The Cosmos were the winningest team in the NASL, rivaled only by the Vancouver Whitecaps, the Tampa Bay Rowdies, and the Fort Lauderdale Strikers during the 1978-'79 season.
Even with Pelé in full retirement, the defense, dribbling, and scoring prowess of the Cosmos was simply too much for most teams. Carlos Alberto worked near the Cosmos' net, ensuring that little to no offense was mounted by opposing teams. During my two years at each of those games in New Jersey (and one in Philadelphia, where Gerry once took me to see an away game against the Fury), I watched Alberto throw his body at and into everything and everyone. If you were going to score against the Cosmos, you were going home with some dents in your shins, Alberto guaranteed it. It was demoralizing for opponents. Perhaps today's fake flops in soccer would have placed Alberto's work under referees' microscopes, but they let the game be played in those days. So, he rarely collected cards for his physically menacing defense.
On those few occasions when the forwards from opposing teams could get through Carlos Alberto's defenses, they were forced to get the ball past Shep Messing, the Cosmos' goalie. Messing was a brilliant mind in front of the net, you could see it. Maybe it was his Harvard education, maybe it was the wealth of experience he brought from his college soccer days or his time with other teams before he got to New York. It didn't matter. Messing anticipated better than any other goalie in the League. He wasn't particularly big or tall. He just seemed to know where the ball was going to be struck before anyone else did. It's possible that as a Bronx native, Messing was on high alert all the time. The Bronx of Messing's childhood must have been an awkward place for him, so his personage would increasingly stand out in a changing landscape of people. As a white kid in the most impoverished borough in New York City, a place where government neglect and white flight created some space to live for African American and Latino families who moved there in the 1950s and 1960s, Messing might have developed enhanced abilities to think ahead and stay out of harm's way. In any case, getting the soccer ball past him wasn't a thing done easily or too frequently.
Gerry was a Bronx native, too. Like Messing, he might have been on high alert while growing up there. For one, he had earned full scholarships to some of New York City's best prep schools. This meant he stood out at an early age among peers in his Northern Bronx neighborhood. It also meant that he left that neighborhood every day to take the NYC subway to Manhattan's Upper East Side, a thing that Bronx kids simply weren't doing in the 1950s and 1960s, when Blackboard Jungle was showing in American movie theaters. These things would make Gerry special and a subject of scorn and derision in the Bronx. The exception was his proud mother and his younger sisters. His older brother, Lance, had a harder time accepting Gerry's liaisons with New York's well-heeled kids. Lance was more connected to his neighborhood. He was even associated with the different gangs cum crews that made lots of trouble en route to forming such hip hop groups as Grandmaster Flash and the Furious Five. Though those groups would shed a light on issues of race, class and police brutality, they weren't too invested in LGBT rights, to say the least. And the homophobia coming out of the Bronx must have placed Gerry in a lonely corner of the borough, giving him and Shep Messing a sort of kinship, even though they never shared anything beyond Gerry's wild cheers for Messing when he made brilliant saves.
Brilliant saves Messing made. He benefitted greatly from the offensive juggernaut that was the Cosmos' Giorgio Chinaglia and Franz Beckenbauer. Match after match, Beckenbauer was able to translate the defensive playmaking of Carlos Alberto into midfield transitions from one end of the soccer pitch to the other. Once he did, the ball was on Chinaglia's foot. And if the ball touched Chinaglia's foot within 125 feet of the opponent's goal, it was likely to touch the back of the net. Chinaglia was no Pele when it came to ball handling or acrobatics, but he had a rocket of a right leg. He was the scourge of defenders throughout the NASL. He would retire in 1983 as the League's leading scorer of all time—averaging a goal a game (counting exhibitions). Beckenbauer would score plenty of goals on his own. Still, a good fake and a clear pass to Chinaglia meant that little stood in the way of the Cosmos' dominance in 1978 and 1979.
It was a team effort, to be sure. That was the thing that made the Cosmos so spectacular to an 11-12-year-old kid who desperately hoped to understand the diversity he returned home to after each game, when the bus pulled back into Port Authority, and he would hop on the subway to Brooklyn with Gerry to resume their competition for my father's affections. The Cosmos represented the four nations above, Brazil, Italy, Germany, and the United States. They also represented England, Canada, Turkey, Portugal, and the former Yugoslavia—before it became two of the world's most competitive national teams, Serbia, and Croatia. It was that assortment of nationalities on which I was transfixed at each home game. And quite apart from the racism I was taught to embrace by the rest of my family, or most of them, the Cosmos and Gerry offered a vison in which cooperation between diverse people could be a source of some serious defensive capacity and goal scoring.
In the end, I'm glad I got that from Gerry and the Cosmos. The Cosmos would eventually surrender their dominance over the NASL. Where Gerry is concerned, no one knows what happened to him. He and my father split in 1981, when he returned to his neighborhood in the Northern Bronx and went missing. After he disappeared, Gerry's family came together with my father to pick through his belongings and somehow figure out what happened. Without much help from the police or his landlord, they reached the conclusion that Gerry must have run afoul of some sketchy guys in his apartment building. That was something he was prone to doing, considering his volatile temper. When the book was closed on his life, we were simply left with a vision of Gerry's murder in a boiler room. A hard thing.
Tony Maniscalco is Brooklyn born and bred. He was an early contributor to Hard Crackers Magazine and his articles can be found in Hard Crackers Issues #1, 2, and 4. He currently lives in Mexico.